There are an additional 5 iPhone travel apps mentioned in this newer post.
Let me preface this by saying that I'm cheap. I'd prefer to spend my money on the actual travel and not on the iPhone apps that make it possible (because let's be honest, some of the paid-for apps provide the same for-free information you can find on the internet).
That being said, there are a few apps that I absolutely love and can hardly function without when I'm traveling or planning a trip. I'm going to highlight some of the generic travel apps I use, but if you need any advice on country- or city-specific apps, let me know.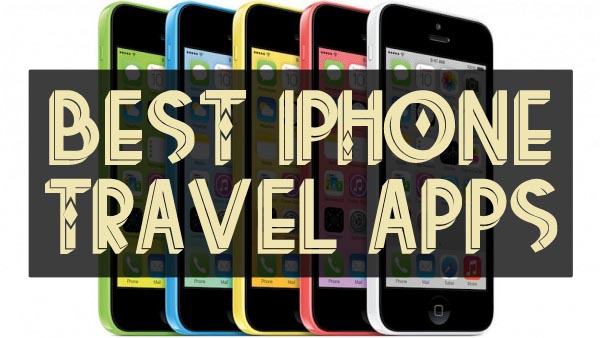 Converter+, Free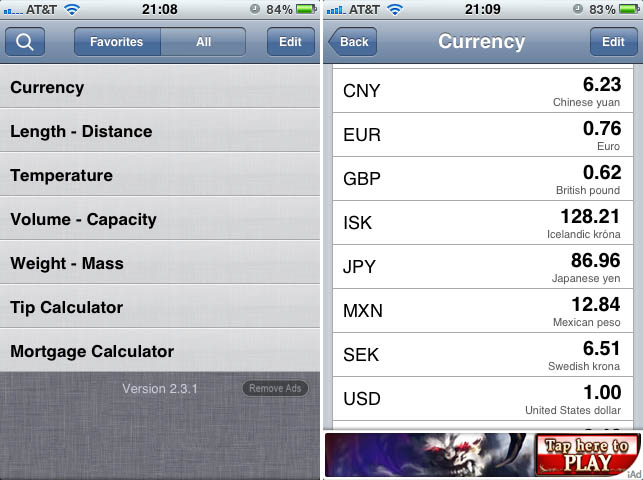 I love Converter+. I seriously use it for everything. I'm not terribly good at the metric system or converting things to the metric system, so it's great to have this app on hand when the TV in another country tells me it's going to be 22C that day. Or when the GPS says that something is 84km away. It's also great for currency conversion!
TripIt, Free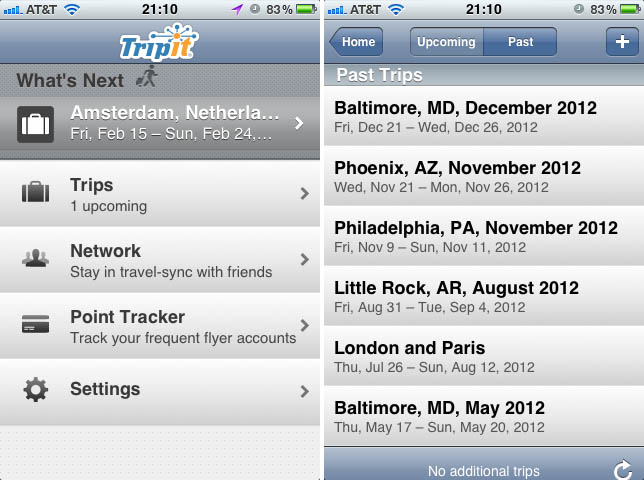 I use TripIt for every single one of my trips. I can't get enough of it. I love that all I have to do is simply forward my reservation confirmation to a specified email address and it's automatically added to an itinerary (which TripIt creates for you). I also love that I can share it with/add others to the particular trip in case they want to add something to it. This is a really great app and the corresponding website is an added bonus.
You can also get the paid-for version (TripIt Pro) which allows you to keep track of all your airline points, check on flight status, etc., but it comes with a hefty price tag ($50/year) that I'm just not willing to fork out. I keep track of all my points on a spreadsheet and check the airline or airport sites for my flight status.
Kayak, Free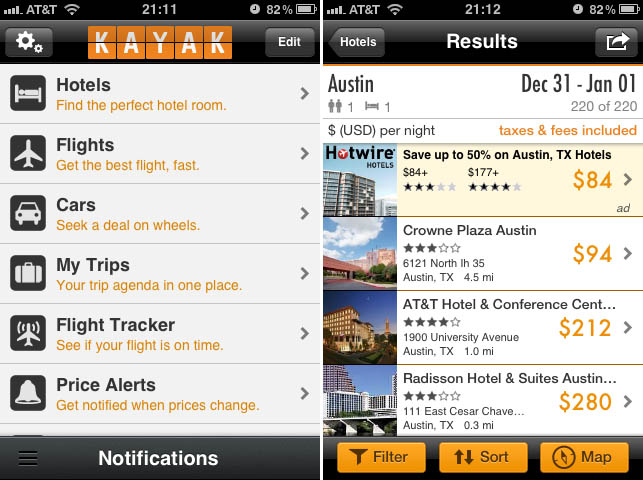 The Kayak app is awesome. It's easy to use, pretty quick to return information, and allows you book a flight or a hotel while on the go. I also end up using this app a lot when my curiosity is piqued and I want to know how much it'd cost to fly to Bora Bora to escape the winter doldrums.
Triposo, Free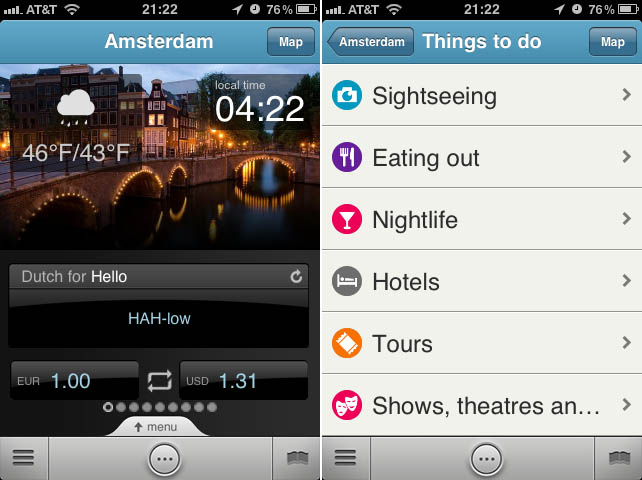 Triposo is a pretty cool app that provides a lot of great information about a variety of destinations. When you open the app and allow it to use your location, the main page gives you some information about where you are. There's also a "Destinations" button on the main page that provides you with a comprehensive list of cities/states/countries from Abu Dhabi to Zurich and Toronto to Azerbaijan. You can then download the corresponding guide where you'll have access to a plethora of information including where to eat, where to stay, where to party, and what to see. It's a wonderful alternative to a guidebook and fits right in your pocket.
WhatsApp, Free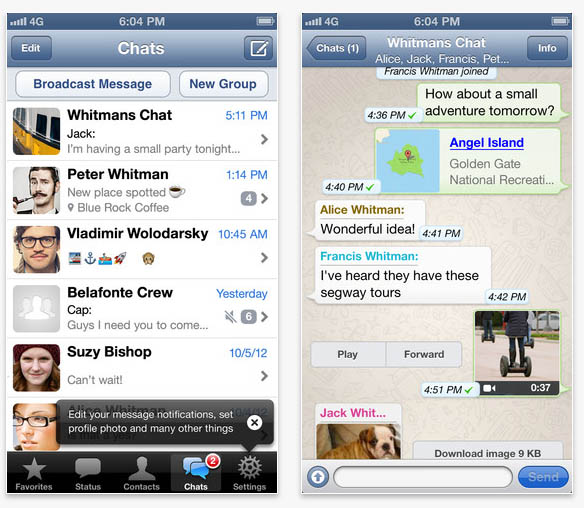 WhatsApp is one of my favorite discoveries ever. If you have friends in foreign countries it's a great way to keep in contact with them without being charged the heinous international fees. Additionally, if you're traveling abroad and want to avoid those roaming charges while still keeping in contact with your friends and family back home, using this app makes it possible. It's exactly like using Messages, but free!
Skype, Free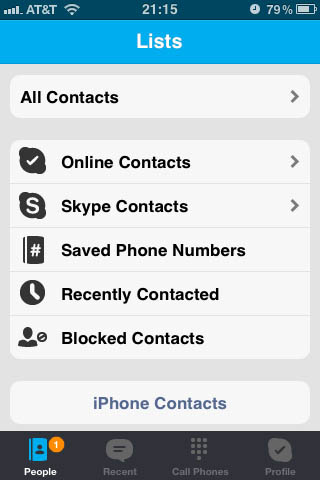 As with WhatsApp, Skype is a great way to correspond with foreign friends or friends/family at home when you're abroad. Only, this allows you to actually hear their voices/see their faces.
Google Translate, Free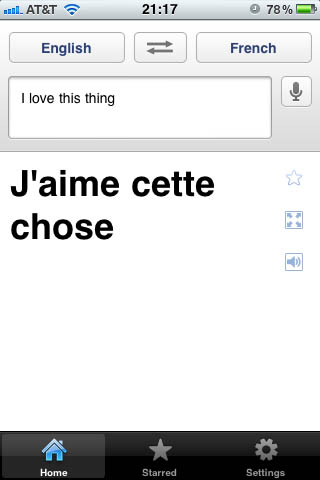 Google Translate eliminates the need to carry around that clunky dual-language dictionary. Just type in what you want to have translated, select the language to have it translated to, and ta-da! Be aware though, translations aren't always 100% accurate, but I imagine the person you're speaking to will at least get some semblance of what you're saying.
Hotel Tonight, Free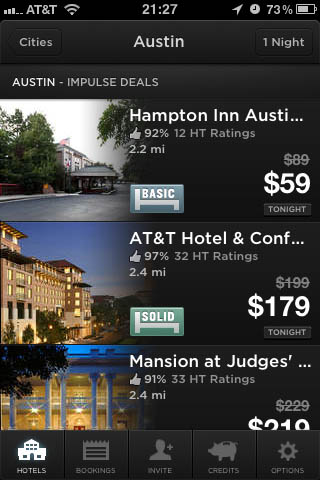 Hotel Tonight uses your location to show you all the hotels around you that are offering discounted prices for that evening. This is perfect if you're a last-minute planner or your travels take you somewhere you hadn't planned to stop. As you can see, some of these are higher-end hotels, but what better way to snag that luxury place at a lower fare?
Seat Guru, Free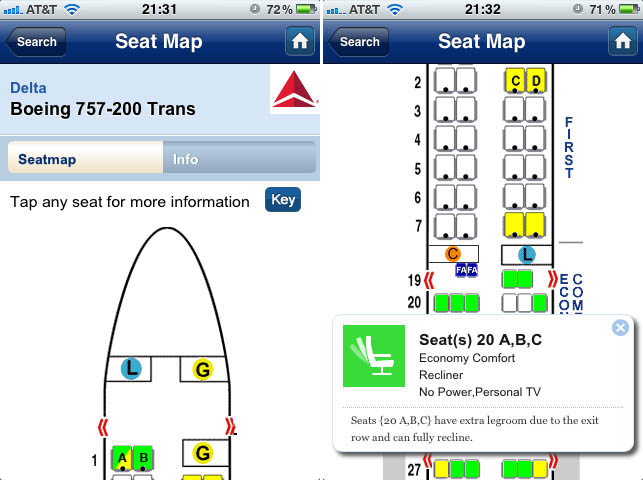 Seat Guru is a must. How many times have you ended up in a seat that you thought would be fine only to find out that the bathrooms are right next to it? Or the seat-backs won't recline? That's where Seat Guru comes in. You can put in your flight number, originating city, and destination, and you're presented with a seating chart of the plane you'll be taking. From there, you can click on a particular seat to see what's good or bad about it–extra legroom, exit row, no recline, near bathrooms, etc.
Urbanspoon, Free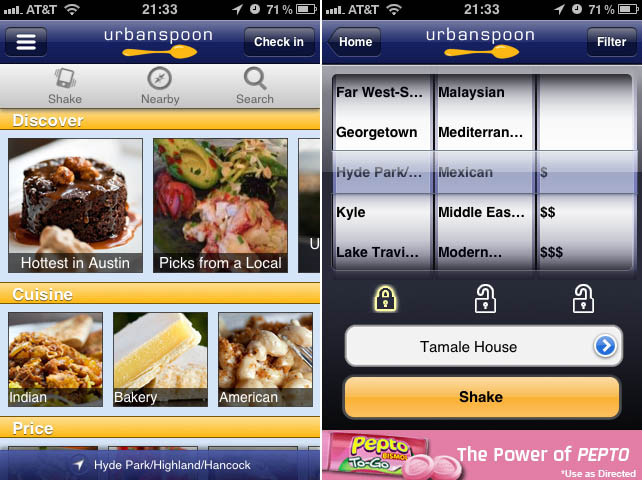 And lastly, Urbanspoon. Super convenient when you're in a new place and you're hungry but have no idea where to eat. Pull up the app, it'll locate your neighborhood and let you know what's close by. If you feel like venturing out, select the neighborhood, type of food, or cost and filter down your choices that way. You can also find restaurant reviews and the occasional menu or link to the website for more information.
There are an additional 5 iPhone travel apps mentioned in this newer post.
I hope that at least a few of these apps were new to you and will help your travel planning/travels a bit more enjoyable. What travel apps do you love?
Note: The companies above did not pay me for mentioning them. I genuinely love and use everything I've written about. However, the Amazon links are affiliates for which I will receive a small commission if you should purchase something. Thanks for supporting Meganotravels!