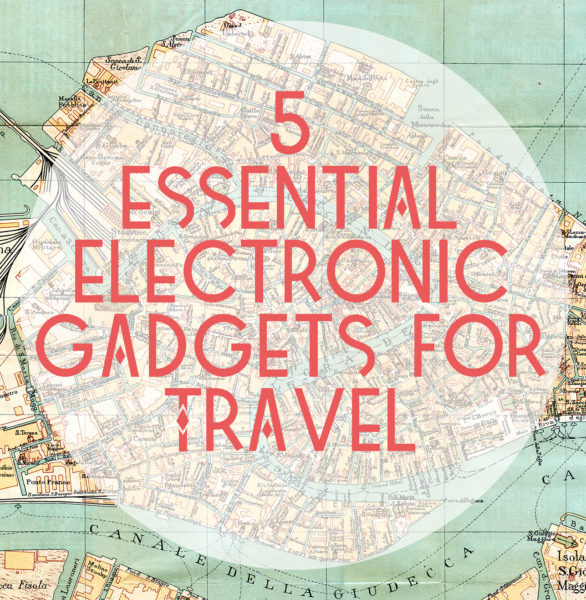 There are all kind of gadgets out there to make travel easier–some are completely worthless while others are almost essential, especially for longer-term trips. There are five things that I refuse to leave home without if I am traveling for more than a long weekend (or a beach-only vacation). Everything I travel with is relatively compact and lightweight as that's imperative for me when packing. Additionally, I throw all of this stuff in my carry-on so that I always have it at arm's length. So, what are my five essential electronic gadgets for travel?

My MacBook Pro is a must-have for almost every trip. It's the bulkiest item that I carry with me, but I feel kind of lost without it. I traveled to Dubai with my iPad instead, hoping that would sort of take the place of my laptop, but I kind of hated it (I even bought a bluetooth keyboard hoping that'd help!). I use my laptop for everything from maintaining my blog and backing up my photos to watching movies and staying connected with friends and family back home. I only leave it behind if I'm going on a beach vacation (like, say, Roatán) or if it's a quick weekend trip (like, say, Montreal).

I am ridiculously scared to lose everything I've worked so hard to create, so along with my laptop, I always carry an external hard drive. When I'm on the road, I am sure to make several backups of all my photos and any writings that I haven't posted online. You never know when your computer will crash, or get stolen or broken. I like having the peace of mind of having everything on a hard drive that I carry around with me. Additionally, you can purchase some cloud storage space as another backup.

This is kind of a no-brainer if you ask me. I know a lot of people prefer to just use their iPhones, but I will probably never be one of those people. I don't always travel with my DSLR, because that can be very heavy and burdensome in some instances, but if I don't have my DSLR, I have my Sony RX100 tucked away in my bag. In addition to the cameras themselves, I pack all the accessories–extra batteries and memory cards, any lenses I might want, and all the charging and image transferring cords. If you want more information on exactly what I carry, check out my post where I highlighted all of my photography gear.

I am almost embarrassed to admit how much I rely on my iPhone–for everything from listening to music and keeping up with social media channels to converting money/distances/temperatures and looking up directions. My iPhone is always on me. I think that a smart phone of any kind is probably the most essential thing you could travel with–keep in contact with your friends and family, check your bank account info, check the weather, take and upload photos to keep people updated, play games, listen to music, etc. When my iPhone was stolen a few years ago in Paris, I was completely lost for the last few days of my trip, and especially for the long-haul flight back to the US. Just do yourself a favor–even if you think you are being smart and conscious of your surroundings, always keep it somewhere safe, and always keep it locked with a passcode (because you don't want to be stranded on a street in Paris frantically calling back to the US from a friend's phone trying to halt your service and changing passwords to email, social media, bank accounts, etc.). Also, as a gadget bonus along with the iPhone, get yourself an external battery pack of some sort. Google Maps and other apps seriously drain your battery, and if you're out all day walking around, external battery packs make it a cinch to plug your phone in and power up.

I know there are a lot of people out there who are anti-Kindle. I used to be one of them. When e-readers first emerged, I (the staunch book-reading English major) swore that I'd never own one. How could anyone want to read on something so sterile? And what about the gorgeous and comforting smell of books? Well, I quickly got over that when I started traveling for longer periods of time. I don't want the extra weight in my bag and, since I have a hard time parting with books after I read them, I wasn't exactly leaving them behind. That's when the Kindle started sounding appealing. Now, I routinely carry 100+ books around in something that weighs about the same as a paperback. I still buy and sometimes travel with paperbacks, but generally, the Kindle is what gets packed.
Note: The companies above did not pay me for mentioning them. I genuinely love and use everything I've written about. However, the Amazon links are affiliates for which I will receive a small commission if you should purchase something. Thanks for supporting Meganotravels!