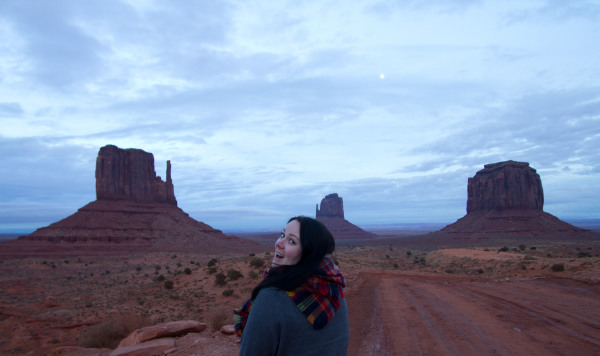 My first time abroad was to Rome, Italy as a study abroad student. A friend of mine didn't think that "Megan" was Italian enough, so to make me a bit more authentic he dubbed me "Megano" (and sang that to the tune "Figaro," probably best known from Tom & Jerry). Since then, it's stuck and many of my friends actually call me "Megano" rather than "Megan." When it came time to start this blog, I thought it just seemed fitting to use my "Italian" name. Thus, Meganotravels was born.

"My life is spent in one long effort to escape from the commonplaces of existence." – Arthur Conan Doyle
Most of my family members would probably tell you that I was born with gypsy blood.
I love travel. Every aspect of it—yes, even the planning, the airports, and the planes.
As a child, my family didn't travel much—the yearly summer trip from our house in the small town of Red Lion, Pennsylvania to Cape May, New Jersey, and the occasional trip to the Smoky Mountains or beaches of Florida. My siblings and I always got excited about the trips though—we'd wake up before the sun was up, pile into the station wagon with our pillows, and when the sun came up, we'd pop in the same Beach Boys "Still Cruisin'" cassette tape, year in and year out. It was the best.
When I got my driver's license, I started venturing out a bit more on my own—Philadelphia, Washington, DC, and Baltimore. I took high school trips to NYC and Boston, and vacations to visit family in Phoenix.
Sometime during college, I became addicted to travel. At first it was all domestic—up and down the east coast, Las Vegas and Phoenix, a cross-country road trip. Then, everything changed when I took my first international trip to study abroad in Rome. Since then, I've tried my hardest to see at least one new country a year, and have (almost) succeeded.
In August of 2013, I decided to take a career break and travel. After 6.5 years in Austin, Texas, I put all my belongings in storage, packed up my car with everything I'd need for a few months and took a road trip to Pennsylvania to hand over my dog (Lord Oliver Roast Beef) to my sister while I gallivanted around the globe full-time for several months. When I returned, I decided to stick around Pennsylvania for a while—securing a contract position that saw me through until December of 2014. In January of 2015, I relocated to Atlanta, Georgia, for work. After almost 3 years there, once again, I made a move, this time to the other music city—Nashville, Tennesee.
I work full-time as a consultant for one of the top-4 global firms. It takes a lot out of me. I travel weekly for this job. Surprisingly, Ifriends haven't yet tired of the travel (especially the takeoffs!). In addition to that, I run a non-profit to send children to school in India. As if those two things weren't a lot, I also have a dog, a family, a boyfriend, and a social life. In between all of these things, I squeeze in some travel. 
So now that you know a bit more about me and how I fell into this whole travel thing, what will you find on this blog?
As Meredith Brooks once put it, "I'm a little bit of everything, all rolled into one." You'll find stories, travel tips, some personal stuff, a few of those top-number posts, and more. I'm a sort of niche-less blogger, but I tick a few of the following boxes:
Solo female travel
Plus size traveler
Full-time job/part-time traveler
Wanna-be political commentator (I lean way to the left)
Photography enthusiast
90s pop culture referencer (mostly the bad stuff)
Non-profit/volunteer travel
I started this blog in 2012, so there's loads of content to check out and I have a lot more to come. I hope you'll stick around and read and get to know me a bit better. I love interacting with readers, so please reach out to me via email or on any of my social media channels (I'm most active on Instagram though!).
Please note that, unless otherwise stated, all writings and photos are copyrighted and property of Meganotravels.com and Megan Allene Smith. Please do not use them without my permission. I am open to sharing, so please just ask!


10 Things to do in Iceland: The Land of Fire and Ice at A Passion and a Passport
5 Things to do in Iceland at Go, See, Write
5 Must-Have Experiences in Morocco at Go, See, Write
Foodie Friday: Five Weirdest Things I've Eaten on my Travels at Mapping Megan
Friday Lens Affair at My Travel Affairs
How to Stay Safe, Cool, and Illness-Free in India at Why Wait to See the World?
Interview at Go! Girls Guides
Interview at A Georgia Peach Abroad
Inspiring Traveler Interview at Mapping Megan
Interview at Fare Cose Dove
Podcast Interview with Checkin Story
Collaborative: Collecting Countries vs. Collecting Memories at Mapping Megan
Collaborative: Selfies from Around the World at Mapping Megan
Collaborative: Nature's Best Photo Essay at Suitcase Stories
Collaborative: A Guide to Travel Accommodation Options at Suitcase Stories
Collaborative: Perfect Romantic Getaways at Travel Photo Discovery
Collaborative: Places to Visit in 2014 at Travel Photo Discovery
Collaborative: Best Tips for a Happy Flight at Halfway Somewhere
Collaborative: Magical Morocco (second slide) at Travel Mindset
Collaborative: Europe from Above at The Trusted Traveller
Collaborative: Ultimate Travel Destinations at The LuxPad
Collaborative: The Beauty of the Islamic World at A Dangerous Business
Pop-Up Restaurants in Jemaa el-Fna on CNN
11 Inspiring Stories of People Who Left Normal Life and Embarked on an Adventure on BuzzFeed
10 People Who Quit Their Jobs To Do Something Amazing on DebateOut
Travel Lately: 3 Things to do in Roatan on National Geographic Intelligent Travel
Travel Lately: Montreal Getaway on National Geographic Intelligent Travel
Dubai by Night on Viator
Loch Ness and Glencoe: A Day in the Scottish Highlands on Viator
These Photos of the Grand Canyon's Sea of Clouds are Spellbinding on Esquire
20 Up-and-Coming Travel Instagram Accounts You Should Follow on The Travel Tester
Top 5 Instagrammers on Very Hungry Explorer
Through Your Lens: Images from the Streets of Morocco on Huffington Post
Top 100 Travel Tweeters of 2015: Wanderlust in 140 Characters on True Nomads
Top 100 Travel Blog Posts of 2014 By Social Media Shares on Man on the Lam
Top 5 Safaris to Visit in Africa on Active Planet Travels
10 Best Travel Photos From Last Week on AFAR
22 Photos That Will Make You Want to Drop Everything & Go on TravelZoo
Mention at Pakistan Unveiled
Best Female Travel Bloggers on Credit Donkey
20 Weirdest Things Food Bloggers Have Eaten on TheThings.com
Photography:
Starbucks in Hot Springs, Arkansas
Taj Mahal on TravelZoo Instagram
Monument Valley on Postcards From The World Instagram
Orccha, India on Postcards From The World Instagram
Taj Mahal on Travel + Leisure Instagram
City Palace in Jaipur, India on BBC Travel Instagram
German Christmas Market on Travel + Leisure Instagram
Venice, Italy on City Trip Instagram
City Palace in Jaipur, India on Travel + Leisure Instagram
City Palace in Jaipur, India on Travel Channel Instagram
City Palace in Jaipur, India on TravelDudes Instagram
Bahamas Sunset on TravelDudes Instagram
Shigar Desert, Pakistan on Matador Network Instagram
Shigar Desert, Pakistan on Pakistan Instagram
Wazir Khan Mosque, Pakistan on Islamic Republic of Pakistan Instagram
Badshahi Mosque, Pakistan on Islamic Republic of Pakistan Instagram
The Lights and Colors of Diwali on Afar
Dubrovnik Old Town Buildings on Boobsimge
Philadelphia Skyline in Haverford College brochure