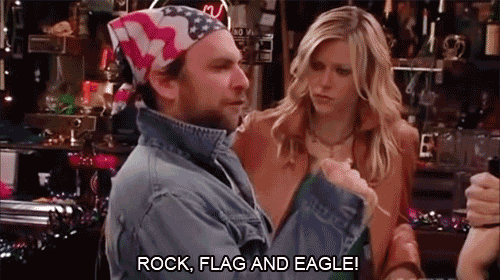 There are some moments while traveling when I find that I'm almost embarrassed to be an American. I am grateful for the many things that my birthright has given me, don't get me wrong–I have a passport that allows me to go most anywhere in the world without hassle, and I was lucky enough to be born in a country where I've been afforded great opportunity for success both as a person, and as a woman. No–it's not those things I'm embarrassed about. It's the feeding into stereotypes; our politics; and the events that take place in my country (and ultimately the reaction to those events) that I find so embarrassing, and oftentimes, so hard to defend.
It's always been my belief that when you travel abroad, you should behave as an ambassador for your country, but when you don't agree with most of what's going on in your nation, it can be very difficult.
The first time I traveled abroad was to Italy in 2006. George W. Bush was president, and the view of the United States was pretty bad–we were knee-deep in a war with no real end in sight; and we were always in everyone else's business–policing other nations even when they didn't want or need it. Politics, at this point in my life, really interested me–I was a fiery early-20-something who saw people my age being sent to slaughter in war, I was mortified by our choice of president, and I was embarrassed by the ways in which things were run in my country.
I knew that I would encounter some people along my travels who only knew the stereotypes of Americans and what they've seen on TV (be it the news or fantastic shows such as Baywatch). What I didn't know at the time was how to deal with and counteract those stereotypes.
The first moment I can really remember being embarrassed, but also somewhat indignant, was in Italy that summer. A few Italian guys invited a couple classmates and me over for a home-cooked meal in the courtyard at their apartment. For all intents and purposes, it was a lovely evening of sitting under trees decorated with Christmas lights, sharing bottles of wine, laughing and practicing our Italian, and getting to know one another. But there was one particular guy there who, upon finding out I was the sole American at the soiree, decided I wasn't even worth a second thought. I was American–therefore, I was a boorish, ignorant person who blindly followed the politics of my government without ever having questioned its decisions. I wanted so badly to make him talk to me, to make him question me about my beliefs and my stances on what we were doing in my country because I was convinced he would like me then (also, if you hadn't picked up on it, I was overly concerned about ensuring that everyone liked me at this point in my life). But I had to break the ice, and I did it with The Simpsons. Just mentioning that I liked the show in conversation with another person made him chime in and when the conversation moved on from there to me being American and to George W. Bush and the war, I was able to give him my viewpoints–that I didn't agree with the President or with the war, and that not all Americans agree with everything our government does. It was then that he seemed satisfied in speaking to me, and in knowing that not all Americans (and Texans) are like George W. Bush.
Fast forward to now, 2013. Politically, things have turned around a bit in the United States and I think we're at least in a bit of a better standing with more countries than we were in 2006, but the perception is still not great.
Last week I was staying in a hostel in Edinburgh for a few nights and, in just five short days, I met people from all over the world–Canada, China, Kazakhstan, Australia, Germany, and Vietnam. I was the only American, again, so there were a lot of questions and comments made, from the run-of-the-mill "what's it really like?" to the "I don't think I want to go to America." I'm always curious why people don't want to visit the United States, since it seems like such a hotbed for tourists from around the world.
My conversation with the Vietnamese guy (who hadn't been to the US and didn't want to go, despite his mother having been and pushing him to study there) went like this:
Me: So you said you don't want to go to the US, and I'm curious why you don't.
Him: America is dangerous.
Me: Dangerous.. how?
Him: Doesn't everyone own a gun? I could get shot anywhere I go. I cannot defend myself against big guys with guns. And look at how many countries hate you.. Afghanistan, Pakistan. They could attack you and I might be there and just get killed.
Me: Okay, it's not actually that scary. Not everyone owns a gun. People aren't just walking down the street waving guns around. And terrorist attacks have happened in other countries too–there was one in the UK (where he's been studying for a year) a couple of years ago.
Thinking that maybe I'd convinced him that the US wasn't quite as scary as perhaps the news conveys it to be, I went to sleep satisfied that I'd been a good little American ambassador. The next day, plastered all over the news was the mass shooting at the Navy Yard. Everything I'd said to that guy the night before had gone out the window. America is dangerous. Perhaps it's not any more or less dangerous than other places in the world, but how can I really tell someone, "sure, go to the US. I promise you won't get randomly shot while walking down the street"?
While I don't want this post to turn into a discussion on politics and gun control laws, these are a few examples of why I find it difficult to defend my nation sometimes. When being an ambassador, there's a fine line to walk between being proud of and defending everything  your country does, and being embarrassed and stating all the reasons it might suck. In general, I answer with honesty every question I am asked, but also ensure that the person I'm talking to knows that my opinion is not necessarily representative of my country's. It's okay for me to be an American and to not agree with everything my country does or stands for, and I want to let inquiring minds know that. I want to ensure that the stereotypes portrayed on TV aren't perpetuated by me or those with whom I travel.
As I said when I started this post–I am lucky to be an American, but that doesn't always mean I am proud to be one.