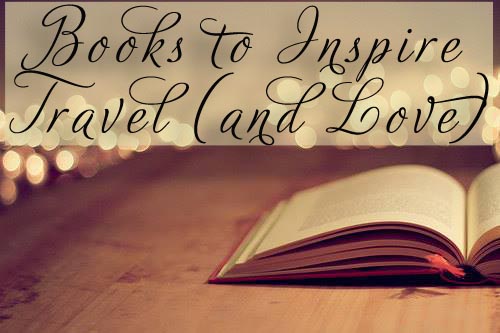 When I was growing up, I had a wicked imagination. It ran wild with all sorts of ideas and stories, so it's only fitting that I had and still have a deep and profound love for the written word and for well-crafted and well-written books.
In the past few years, I've read some incredible books. Ones that have not only inspired in me a love of the world, but also a love for the characters, and a deep desire to have just that: love. Love, in this context, doesn't necessarily mean in a romantic way or even for another person, but just in general. A love of language, of culture, of countries, of people. So, because I've gotten great joy and felt deep connections to these books, I wanted to share them with you. Here are some books to inspire travel (and love) in your lives as well.
Forty Rules of Love by Elif Shafak
I picked this book up based on a recommendation from a friend last summer and read it slowly so that I could really breathe it in. And I recommend you do the same on your first read. It's a love story, sure, but not in the way you'd think. There are a couple of story lines intertwined in Forty Rules of Love, one about the dissolution of a long marriage and the blossoming romance that's borne from that; one about the love between the Rumi, the 13th century Sufi mystic, and the wandering dervish, Shams of Tabriz, Rumi's spiritual instructor. It's a beautifully crafted book, which not only shares a few stories, but also provides some wonderful "rules" to live by and inspires some wanderlust as you follow along with the characters on their journeys.
Some favorite quotes:
"I hunt everywhere for a life worth living and a knowledge worth knowing. Having roots nowhere, I have everywhere to go."
"Ask anyone who has heard the call to morning prayer for the first time and he will tell you the same thing. That it is beautiful, rich, and mysterious. And yet at the same time there is something uncanny about it, almost eerie. Just like love."
Adé: A Love Story by Rebecca Walker
This was such a lovely book and parts of it hit so close to home that sometimes I forgot that I was reading. It's a story about two college students who travel to Africa with the intention of backpacking around for the summer. You have this beautiful background story, following them around to various countries while the narrator discovers the land that her ancestors came from and where she feels "normal", and then, you have it morph into this beautiful love story as she falls in loves with a Swahili man on an island off the coast of Kenya. They plan this long life together, one in which they will marry, have children, and build a home to suit their simple dreams. But things change when the narrator gets sick and political tensions get high in Kenya. I won't give away the ending, but I will say that it's such a quick read. I devoured it in a couple of days while traveling in Dubai and I loved it.
Some favorite quotes:
"'Amar,' he said, pointing to the moon. 'Nejma,' he said, pointing to the stars, of which there were millions, lighting up the sky like the tiny phosphorescence that danced around me when I swam in the sea months later with Adé, laughing at the magic of those tiny bits of aquatic fire. I nodded and repeated the words back to him: amar, nejma."
"I did not want to get back on the never-ending train of my life. For once I longed to arrive, not depart."
Eat, Pray, Love: One Woman's Search for Everything Across Italy, India and Indonesia by Elizabeth Gilbert
I can already hear your eyes rolling, but I really enjoyed this book. I loved that it was parts introspection and parts travel. I loved learning bits and pieces of languages and about cultures through Elizabeth's eyes. I get people's aversion to this–she's a privileged white woman who is able to flee quickly from a great life that she was just unhappy with–but I also kind of identify with it a little. We all feel things on different levels and no matter how privileged or wonderful your life can seem from the outside, we all fight internal demons. She may have run away from hers, but she also ended up facing them because of that. And travel helped her discover a world outside of herself and helped her find love again–for herself and for another. I'd say, ultimately, that's a good story.
Some favorite quotes:
"Happiness is the consequence of personal effort. You fight for it, strive for it, insist upon it, and sometimes even travel around the world looking for it. You have to participate relentlessly in the manifestations of your own blessings. And once you have achieved a state of happiness, you must never become lax about maintaining it. You must make a mighty effort to keep swimming upward into that happiness forever, to stay afloat on top of it."
"Ruin is a gift. Ruin is the road to transformation."
Tales of a Female Nomad: Living at Large in the World by Rita Golden Gelman
This was another book that I devoured. It also made me sob like a baby at the end because I realized how much of her life I wanted to be my own, and how, like her, I felt this sort of struggle between the life I should have and the life I want to have. Tales of a Female Nomad is, in a nutshell, the stories of a woman who realized the life she was living was one that didn't fit, and so she crafted a life that did. It's a series of travel essays which take place in various different countries, and Rita talks about living with local people, learning their languages, learning about their cultures, and learning to love her life and embrace the things which make her happiest. I especially loved her stories in Mexico and Indonesia, where she really seemed to make awesome connections with people. I really admired her anthropological standpoint–one in which she tried hard not to pass judgment and instead just observed and participated as she could.
Favorite quote:
"I have buried my fears, abandoned self-consciousness, and allowed myself to slide into sensation. I like the person I have become."
What I Was Doing While You Were Breeding: A Memoir by Kristin Newman
In the beginning, Kristin is a 30-something single female whose only way of dealing with her issues is by jumping on planes and getting the hell out of dodge to both escape and process. Along the way, she finds short holiday romances in almost each of her destinations–little flings that reignite love and the desire to both travel and be in a relationship. Much like Tales of a Female Nomad, the book is broken into stories taking place in each individual location. There were parts of this book that made me laugh out loud, and parts that were so disturbing and awkward that I certainly felt for Kristin. Also, I found so much of myself in this book that I felt strangely like I had written it. She's neurotic, anxious, scared she's broken, unsure of what she wants out of life or a relationship, and pushes everything to arm's length because she is so confused. The number of times I texted my sister and said, "Oh god, this book is about me. And it's like it's almost written by me!" was astounding. Kristin Newman, you're my spirit animal.
Some favorite quotes:
"Love frees you to be the person you actually are."
"Why are you crying when you broke up with him!" "Because I'm broken! He's great! And Trevor was great! I'm getting older, I should want to settle down. But I don't want to! Maybe I won't ever want to! Everyone else wants to, what's wrong with me? Maybe I'll sabotage all relationships forever because I'm broken!"
So, there you have it. That should get you started on inspiring some wanderlust and love for now! What books would you add to this list? I'm always looking for something new!
Note: The Amazon links are affiliates for which I will receive a small commission if you should purchase something. Thanks for supporting Meganotravels!