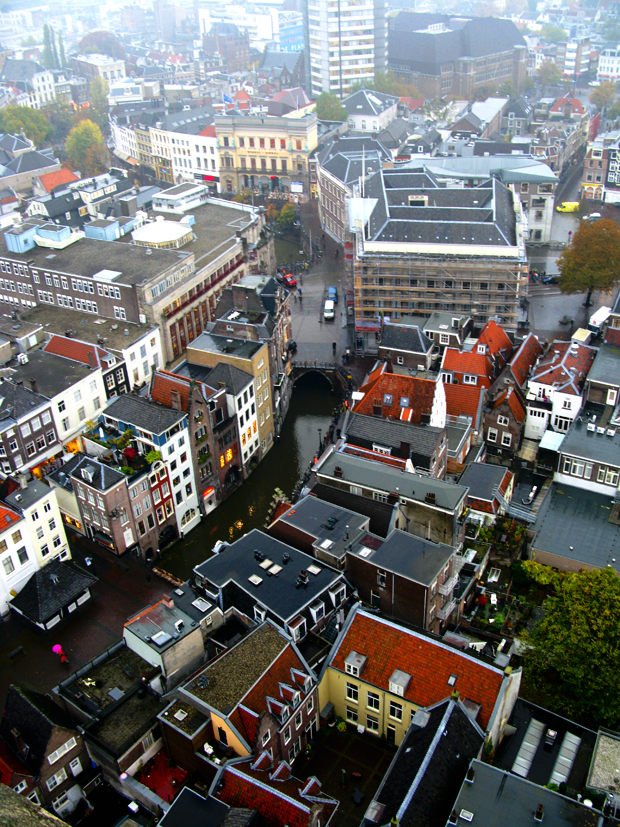 I really didn't know much about the Netherlands beyond windmills, tulips, clogs, weed, and prostitutes. (Well, and canals and bicycles, if we're being honest.) I was pretty excited to see the country, especially since I'd met about five students from there when I studied abroad in Rome, and had become very good friends with a few of them. I've been to Utrecht twice—once in 2007 when I was traveling with my friend, Erico; and again in 2010 when I traveled over alone. Both times I stayed with my lovely friend, Beata, in her adorable, very typical-Dutch home (complete with spiral staircase!).
Loves
Restaurant: De Oude Muntkelder
Bar: Zussen (I saw the famous Dutch footballer, Ibrahim Afellay, when I was there in 2010. Fun fact: I saw him play in the World Cup game against Slovakia later that summer.)
Shopping: Hoog Catharijne
Church: Dom Tower
Food(s): pancakes, bitterballen, hagelslag

What to know
Because of the huge population of students living there, Utrecht has a great nightlife—several clubs and a lot of bars.
It's easiest to get around on foot or by bike.
Why go?
It's the fourth largest city in the Netherlands. It's only about 45 minutes from Amsterdam by train, so it's easy to get to.

Things to do
Climb the 465 steps to the top of the Dom Tower. The views are worth it—even on an overcast day, they're beautiful. Plus, the Dom Tower in general is just really beautiful. While you're at St. Martin's Cathedral, check out the cloister.
Ride a bicycle! You can't go to the Netherlands and not ride a bicycle. If you're a bike-riding novice, be careful though. The bike lanes are pretty narrow, and the Dutch ride several people deep. Oh, and some of the bike lanes are right next to the bus lanes. Dutch drivers are well-trained to look out for bikers though, so you should be fine.
Take a boat tour of the canals.

Worth Mentioning (and remembering)
I kind of love all-things Dutch. I think the people are cute, the country is beautiful, the food is tasty, and the language is fun! Having so many Dutch friends has allowed me to learn some of the most important phrases:
Helaas, pindakaas (literal translation: too bad, peanut butter; means: too bad, oh well)
Fietsers fietsen op het fietspad (means: bikes bike on the bike path)
Warme chocolademelk met slagroom (means: hot chocolate with whipped cream)

Details
I really love Utrecht. Even though it's the fourth largest city in the Netherlands, it has a small-town feel to it that I find incredibly charming. Staying with Beata rather than in a hotel made me feel like more of a native than a tourist. Sure, I did the touristy things you should do when you're in a new place, but I also got to wake up in the morning and step out onto the stoop and say hello to her friendly neighbors; and walk down the street, past the school where small children were running around on the playground, screaming joyfully and having a grand time.
On a day when Beata was in class all day, I ventured out to the shopping area and took my time strolling around along the canals, popping in shops, watching people, and enjoying the beautiful weather. I even managed to get lost (which is very easy to do), and it didn't bother me (very much). I took a walk through the park and saw people sitting by the pond, children riding bikes, old couples taking walks.
I think of all the places I've visited in the Netherlands (five cities, including Utrecht), Utrecht would be where I'd want to live. It just has that homey and relaxed feel to it.