Religion aside, I love Christmas. I think perhaps what's more is that I love the idea of Christmas and the traditions that come with it. I also find it fascinating that different countries and cultures have their own unique traditions:
In Iceland, they have 13 Yule Lads (their version of Santa Claus). Historically, they've been portrayed as mischievous, but more recently they've taken on a different role similar to the traditional Santa Claus — now, instead of stealing things from children, they leave gifts behind (even for the bad ones!).
In the Netherlands, they have Sinterklaas and Zwarte Piet who arrive by boat from Spain in mid-November and give out candy and treats to children. Then, every night up to December 5, Sinterklaas fills children's shoes with more treats. Family members also exchange gifts that are disguised and are accompanied by a funny poem that pokes fun at the gift recipient.
In Austria, Krampus accompanies Santa Claus and reprimands the bad kids while Santa rewards the good ones. For the especially bad ones, Krampus throws them in his sack and takes them back to his lair to eat them for dinner.
When I think about Christmas in Europe, it seems so rich and rife with tradition. In addition to the couple things I mentioned before, these are just a few of the things I'd do:
Shopping in London and Paris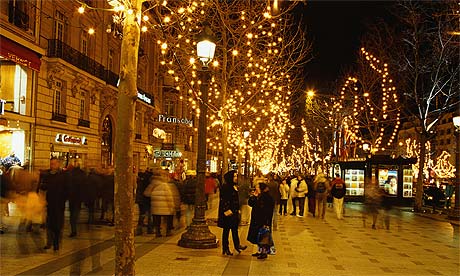 Christmas markets in Germany, Belgium, and Czech Republic
Drink mulled wine
Eat a ton of pepernoten and traditional English Christmas pudding
Is there anything I'm missing? (I'm sure there is!)