Years ago I had my first viewing of the film Baraka, which features some of the most stunning footage of countries and cultures from all across the world that I've ever had the pleasure of laying eyes on. One particular scene though, really struck a chord with me and I haven't been able to get it out of my mind since.
I was so awestruck by this scene that I immediately took to the Internet to find out who they were and why they were dancing. So, who are they and why are they dancing? Here's the short answer: They're called the Mevlevilik, or Whirling Dervishes, and are a Sufi order. The whirling is done in remembrance of God.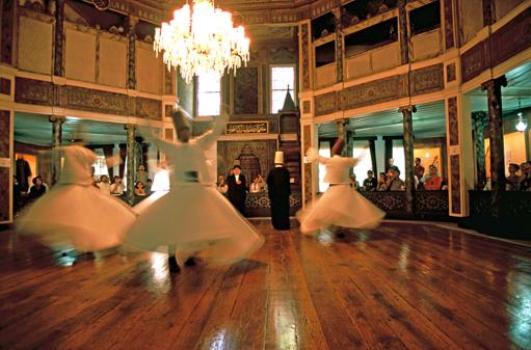 A couple weeks ago I started reading The Forty Rules of Love, upon a recommendation by a friend. Little did I know before starting the book that it was about Rumi, the 13th-century poet and theologian who is credited with starting this practice. It is said that one day he was walking through a marketplace and heard workers chanting "There is no God but Allah" while hammering gold, and he was so enamored by this that he threw his arms open and began to spin in circles.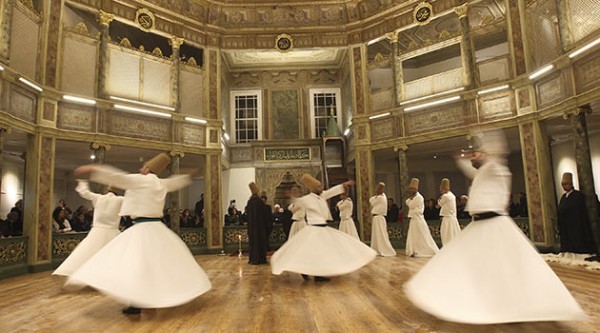 This Sufi order was outlawed in Turkey in 1925, but they are still allowed to perform this dance as it is seen as a great tourist attraction. In fact, just a few years ago, UNESCO named the ceremony as one of their Masterpieces of the Oral and Intangible Heritage of Humanity. They did a tour in several countries in 2007, but today can still be seen in Istanbul and Konya (which is where it began). When I plan a trip to Istanbul, I fully intend on seeing this gorgeous ceremony at the Galata Mevlevihane, or Mevlevi Lodge.