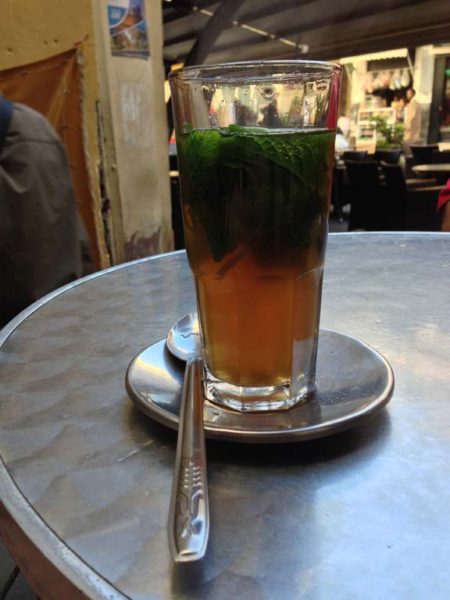 A few years ago, I dated a Moroccan man, Ishmael*, for a few months. One morning, early into the short fling, he disappeared to the kitchen for a bit while I rubbed my sleepy eyes, sitting on the couch in the next room, wondering what it was that he was doing.
When he returned, he carried a silver tray with a small teapot, four small glasses, and a plate of cookies. He poured me a glass of mint tea, which he then poured into another cup–back and forth, back and forth, until the tea was cool enough to drink. This particular morning was my first introduction to Moroccan mint tea.
Almost eight years later, I stepped foot in that elusive country for the first time. While I thought of Ishmael from time to time, it was never as strongly as when I traveled around Morocco, and especially on one particular occasion.
The first week of my trip to Morocco went off without much of an issue (if you don't count Tangier, lost luggage, and a several-hour cab ride made longer by car troubles). But then it happened: I got food poisoning in Marrakech. I spent all night and much of the next morning in such pain that I remained curled up in a ball, crying, or running to the bathroom every 15 minutes. But then my check-out time was rapidly approaching and I knew I had to navigate the medina to find my next riad.
When I arrived, it was a welcome change from the sort-of dump that I'd just stayed in. A sweet woman led me to a makeshift library off of the courtyard, and asked if I'd like some tea. Given my stomach issues, I wasn't sure it was a great idea, but I was feeling a bit more human and decided to give it a shot.
She returned with almost the exact setup that Ishmael had brought to me that morning: a silver tray with a small teapot, a glass, and a plate of cookies. She graciously poured me a cup and left me to enjoy it while she prepared my room for me.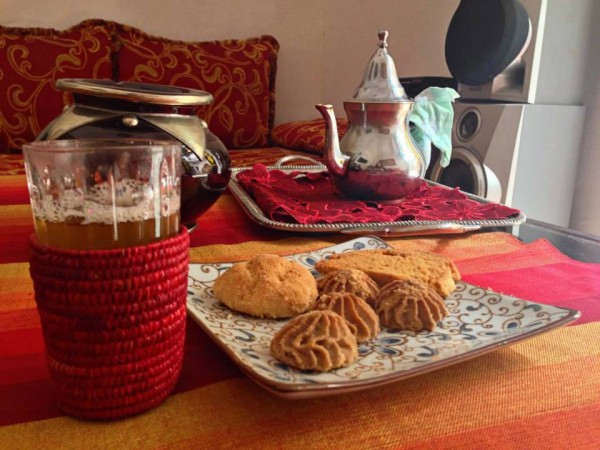 Moroccan mint tea is both delicious and sickening. It's perfectly potent–a bite of mint in every sip–but also so overwhelmingly sweet that you can almost feel your teeth rotting with each sip. Most places won't ask you if you want sweetened or unsweetened, but if they do, and you don't ordinarily like sweet tea, I would opt for unsweetened and get some sugar on the side to sweeten it to your liking. That, paired with the cookies, is a bit much for my tastes, but I tried to have as much of it as I could when I was in Morocco. I even brought some mint tea back with me so I could make it (with less sugar, of course).
It's funny how scents and tastes can bring back a rush of memories and emotions. I hadn't thought about that morning with Ishmael since probably the week after it happened, and there I sat, eight years later, recalling every detail.
*Not his real name, obviously.