While I only write about travel (and travel-related things) on my blog, I do have lots of other interests, and one of the biggies is architecture and interior design. In fact, when I was in high school, I considered going to school for interior design; my senior project was interior-design related–I redid my entire bedroom for it. I instead decided to major in English, but my love for architecture and interior design never really left.
I can appreciate most styles of architecture and interior design, but mid-century modern will always reign supreme for me. I love clean, straight lines; minimalism; and simple shapes. Many consider Frank Lloyd Wright the father of mid-century modern, so when I visited Pittsburgh, I knew I had to visit his Fallingwater house, just about an hour away from the city.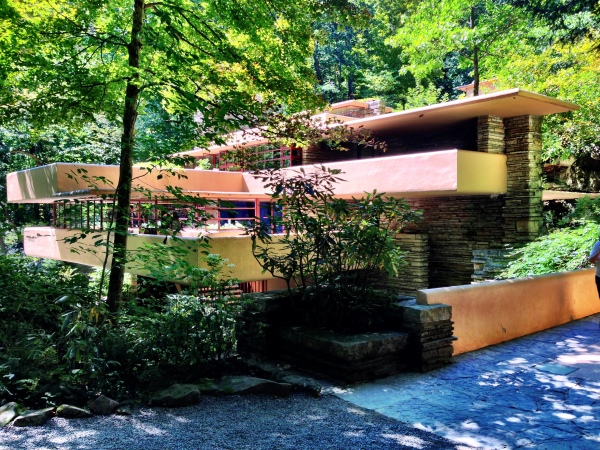 You can choose from two different tours of Fallingwater, one is a bit more expensive ($72), lasts a bit longer, and allows you to photograph inside. I am cheap and opted for the shorter $25 option, which I felt was more than informative and gave me plenty of time to see the house and the grounds.
When you arrive at Fallingwater, you take a little walk through the grounds to find the house. It's such a pleasant walk through the woods until you come upon the house, which was built over a waterfall. One of Wright's defining styles was incorporating his design with the elements–not only is the house built over a waterfall, but it uses materials (stones, wood, etc.) from the surrounding areas.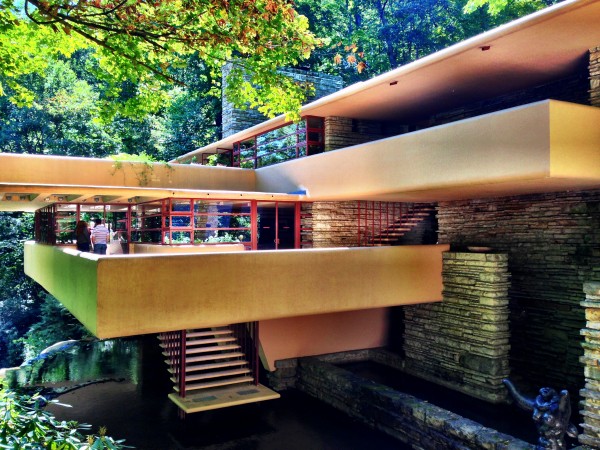 The house was a bit confusing inside–if I'd been left to my own devices, I'm sure I could've gotten lost in there with all of the little staircases and rooms leading to other rooms. I loved, though, how the house used almost every inch of space effectively. It was also pretty incredible to see some design elements I never would have thought of–corner windows, which opened inward or outward, and allowed the sounds of the crashing waterfall below to fill the room.
After a tour through the house, you can spend some additional time wandering around the grounds. I suggest taking a walk up the hill to get the best views of the house and the waterfall.