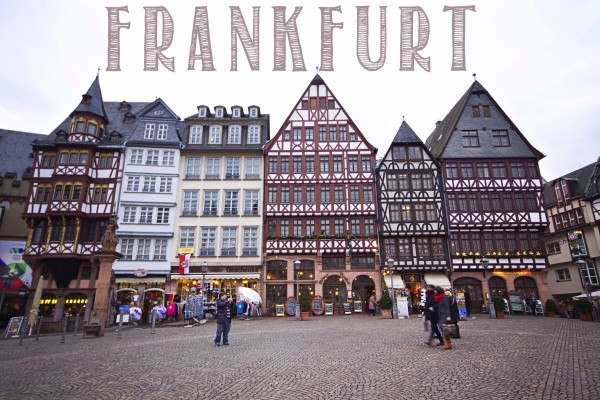 If you'd asked me before my recent trip to Frankfurt, I would've guessed that it was a larger city than Köln, but it is in fact the fifth-largest in Germany (just after Köln). Still, it feels much larger and more city-like to me. To be honest, that's not necessarily a great thing in my book. I liked Frankfurt, but I was sort of bored by it too. Much of it felt very generic and anonymous to me–like it could've been a city found anywhere else in the world. It wasn't until I saw Altstadt (Old Town) that it actually started to feel German to me.
Frankfurt is Europe's financial center, and you can certainly tell–towering bank buildings, lavish shops, and expensive cars. Everywhere I went though, it seemed rather dead. I didn't see the hustle and bustle I'd expected from a major European city, and perhaps that's because it's mostly business and I was there over a weekend.
When I arrived in Frankfurt, I didn't have much of a plan. I hadn't really looked up things to see or do because I was traveling with a friend who'd been several times and I knew he'd act as my "tour guide" of sorts and point me in all the right directions.
Out of all the things we saw and did, the two I'd most recommend (besides the obvious walk-around-and-see-the-city one) would be to go up the Main Tower and to take a stroll through Altstadt.
At 56 stories, the Main Tower is the fourth tallest building in Frankfurt (and Germany, for that matter) and boasts two viewing platforms from which to see the entire cityscape. It costs about $6.50 (5€) and the views are worth every cent. The elevator climbs 623ft (190m) at about 11mph (18kmh) and dumps you out onto the first (indoor) viewing area, where there's also a restaurant (which was closed when I was there). At that landing, you climb stairs to get to the outdoor viewing area, which offers 360° views of the city and the river.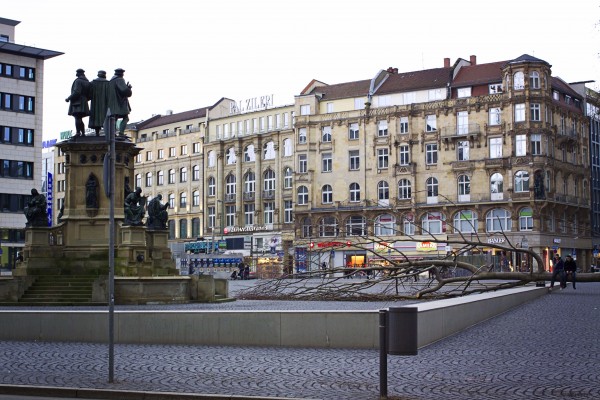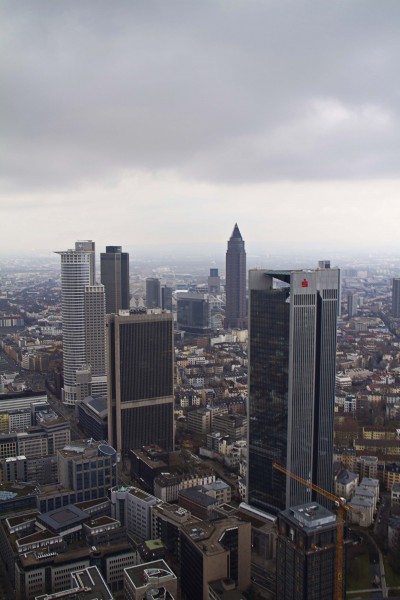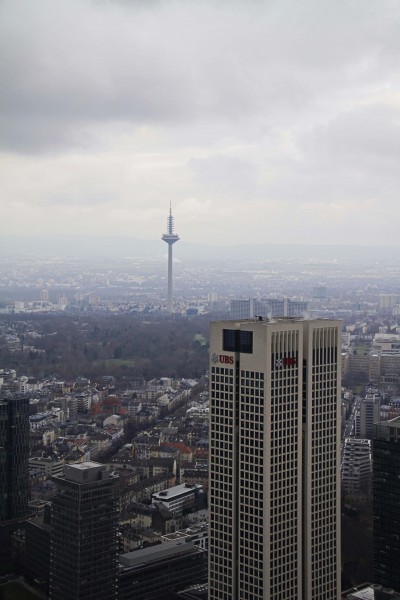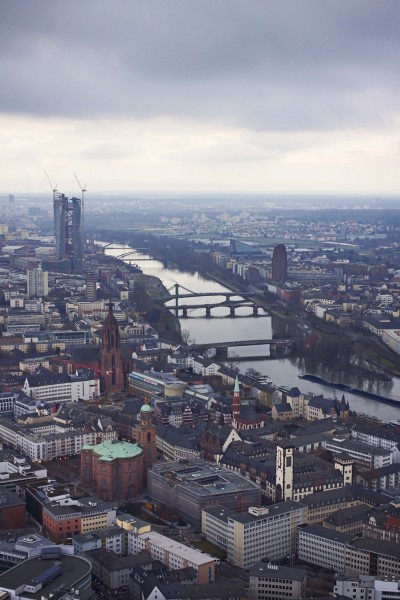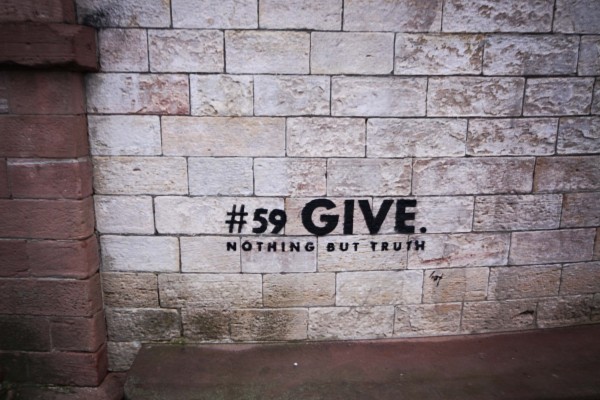 The Altstadt is Frankfurt's historical center and dates back to 794. A lot of buildings were destroyed during World War II, and only a few have been preserved since then. The Römerberg Ostzeile is probably the most well-known area of the Altstadt, and is where you'll find Alte Nikolaikirche (Old Saint Nicholas Church), Römer city hall, and many other middle-age-style buildings. Unfortunately, most of these buildings are reconstructions, but it doesn't make them any less charming and or impressive.
Also, just a little note about driving in this area–parking was very difficult to find, so we parked in a garage on the other side of the city and walked over, which was preferable because it meant that we got to see a lot more and really enjoy the scenery.