Biography
Melissa Pike grew up in Maryland, Southern California, and graduated from high school in Southcentral Pennsylvania. She attended Ohio University and graduated in 2003. Prior to the economic downturn in 2009, she worked in MD, PA and NJ prior to the economic downturn in 2009. After losing her job, she found herself departing the east coast and setting off for adventure.  She currently resides in Anchorage, Alaska, with her husband, Kevin, and their black lab, Kramer.  During the summer, she hikes, bikes, fishes, canoes, kayaks, camps, and explores Alaska with her husband and friends. In the winter, she skis (downhill, cross-country, and backcountry), snowshoes, snowmobiles, and enjoys the slower pace of winter in Alaska.  Additionally, she runs 5Ks, half-marathons, triathlons, and XC Ski Marathons to raise money for local charities. Melissa has traveled to Germany, Austria, United Kingdom, Italy, Iceland, Honduras, Canada, Hawaii, many communities in rural Alaska, and much of the continential United States. She enjoys sharing travel adventures through writing and photos. You can always catch her planning the next adventure and looking for travel deals. You can contact her at missyanne81@gmail.com.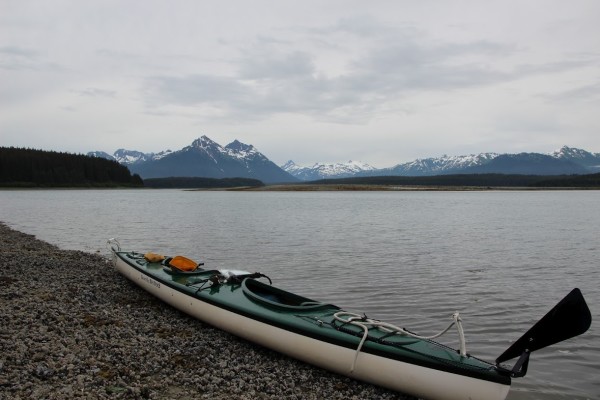 Pike Adventures in Sea Kayaking Glacier Bay National Park, Southeast Alaska
The Boeing-747 engines roared as we took off from Juneau on our 13-minute flight to Gustavus, Alaska. The view out the window was amazing. Flying at only 4,000 feet, we were as high as the mountain tops, which were mostly green, with the occasional patch of snow here and there. The clouds skirted the mountains and in the distance, patches of low clouds with virga. Below us, boats were traveling out of Auke Bay, most likely heading out to halibut fish on this July 4th.
We landed in Gustavus, where we needed to back taxi on the runway to reach the Alaska Airlines terminal. Gustavus Airport only has one runway, and landing the 747 took pretty much all of it. There are only four buildings at the airport, one is Alaska Airlines and the other three are local air taxi services. We exited the plane, through the front and down the stairs to the tarmac.  Most small village airports in Alaska are set up this way. We exited the airport through a metal "security" fence and waited for our luggage outside.  The sun began to shine from behind the clouds and the trip seemed to be off to a good start.
Gustavus is a small town, with a population of 346. The town is rather spread out, so using a bike is probably your best option for exploring the area. It also will be the cheapest. There's a post office, one gas station (about $8.00/gallon), two grocery stores (one with organic produce) and several bed and breakfasts. There are several tour operators that provide day-tours into Glacier Bay, which generally start north of town at the Glacier Bay National Park (GBNP) boat dock. If you don't want to bike or walk around town, there are several local taxi services.  To and from the airport, GBNP offers a free shuttle to the national park lodge and campgrounds, which are located 10-miles north of the airport and town.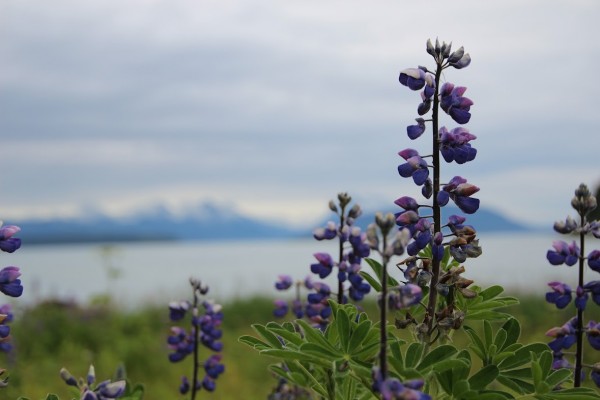 GBNP has a full-service lodge, complete with dining facilities, a full-service bar, gift shop and 55-guest rooms.  The dining facility is run by Aramark, and the food is relatively good, given the remote location.  They serve your typical Alaskan entrees – halibut, salmon, and seafood chowder – but there are other comfort foods, such as meatloaf and baked chicken. Prices run about $12-20 per entrée, with a pint of Juneau based Alaskan Brewing Company ale for $5.50.
For the more adventuresome travelers (like me and my husband), there is a campground located about ½-mile from the lodge. It is free to camp and requires a backcountry camping permit (also free) that is obtained at the NPS ranger station at the boat launch area.  Near the NPS station, there's a small building/cache for storing your food & gear to keep it away from bears. It is also good for finding gear from previous travelers (camping fuel, bear spray, miscellaneous food).  Due to federal regulations, you cannot transport camping fuel or bear spray by air in your carry-on.  So, it's best to check the cache prior to purchasing these non-returnable items at the lodge gift shop.
After arriving at GBNP, we headed to the ranger station, filled out our backcountry permit and then walked to the campground to set up our tent.  The NPS provides large wheelbarrows to help you haul your gear and, after a long day of travel, it is a nice luxury.
The next morning, we awoke to a bald eagle calling, most likely in one of the trees near our campsite. We gathered up our camping items and went to the kayak rental shack to get our gear.  Later that morning, a fellow camper showed us a photo of a black bear that he saw walking only a few feet from our tent.  This was another good lesson on why it's important to not store or cook food in or near your tent.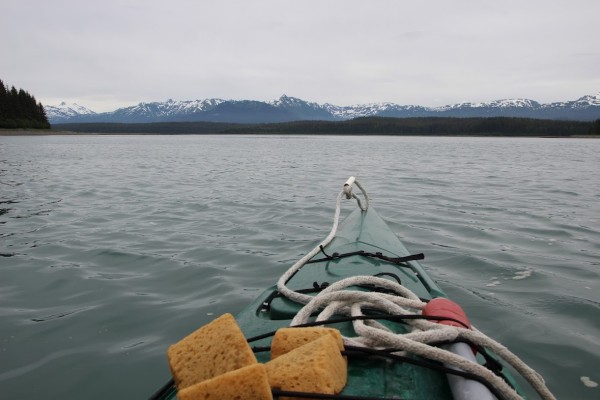 We started kayaking in the afternoon, about an hour before high tide. Waiting for high tide was essential. With a high to low tide difference of about 20-25 feet in water depth, the route north into the Beardslee Islands was only accessible during the high tide. When the tide was low, this area became a thick mud pit.  Within thirty minutes of paddling, we were out of the narrow channel and enjoying solitude. The Beardslee Islands are only assessable by non-motorized vessels due to park restrictions in order to protect wildlife. This is kayaker's heaven.
Suddenly, we heard a loud splash behind us. My husband said, "What was that?" as he glanced over his shoulder. Within moments, a gray harbor seal's head popped out of the water within just a few feet of the kayak. It stared at us, and breathed deeply.  Seconds later, it dove underwater. We continued to paddle, thinking maybe we were in its space. The seal resurfaced on the side of the kayak a little further out, then dove down, and popped up again behind the kayak. Neither of us had been that close to a harbor seal in its natural habitat. It was truly a memorable experience. The seal followed us for about 10 minutes and then seemed to lose interest.  We continued to paddle and came across an island that appeared to have a nice level high spot that would be perfect for the first night.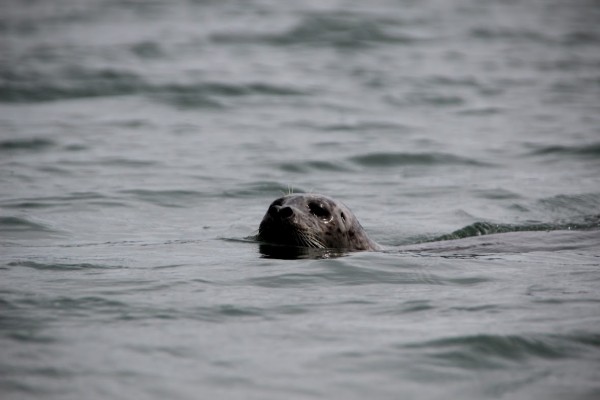 We pulled our tandem kayak up on the gray, glacier silt beach that was covered in clam shells and sea weed, and began to inspect the island for potential bear activity. It's best to do the check before you set up camp. Luckily for us, the island looked untouched by bears. There were a few oystercatchers grazing for food on the beach and out in the water more harbor seals were bobbing their heads, watching us as we set up camp. After dinner, we were able to scrounge around the island for some firewood. Southeast Alaska is essentially a rainforest so finding dry wood is always a challenge.  Luckily for us, we found a dry log and my husband was able to shave off pieces and start a fire on the beach.  In the distance, the mountains became obscured by clouds and it started to rain. We gathered up our gear and moved the kayak up close to the tent before heading to sleep in our cozy tent.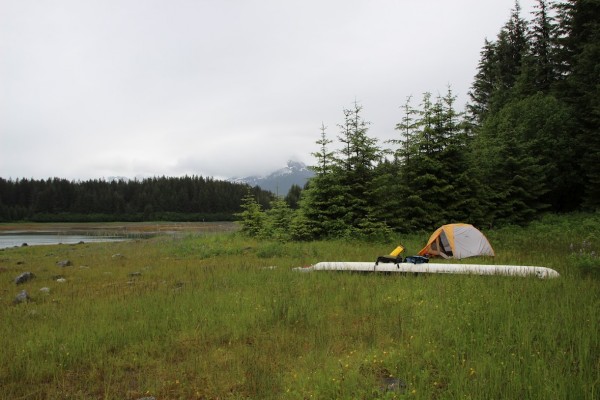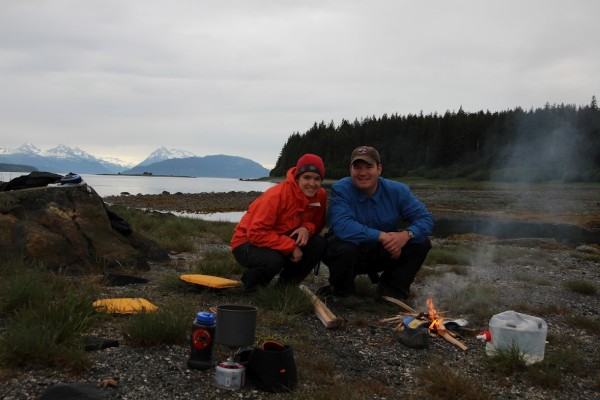 We awoke in the morning to moderately heavy rain. Between showers, we made breakfast in the inter-tidal zone – warm granola with bananas and milk along with some hot French press coffee. Who says you can't eat gourmet when you're out in the wilderness?
We waited to pack out the tent until the rain had passed, which was almost noon.  Running out of daylight in Alaska is not really an issue in the summer months. In some places (Fairbanks and north) we have 24-hours of daylight during the summer. Here in Glacier Bay, the sun was rising at 4 am and setting at 10 pm in early July. We had plenty of daylight for our adventures, even with a later than usual start to the day.  We packed up our gear and climbed in the kayak.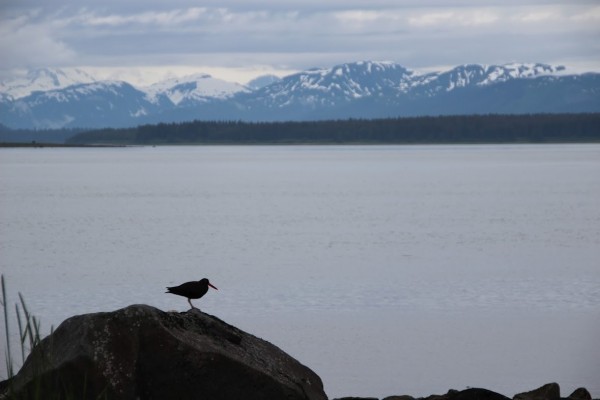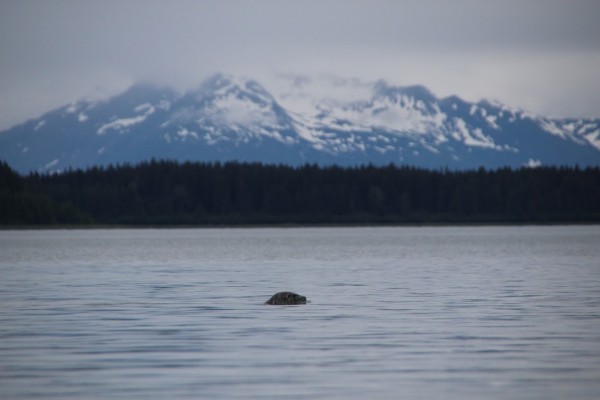 Unfortunately for us, despite the significant amounts of daylight, the wind and the tide just were not going to cooperate today. We were paddling against the high tide, with some strong headwind. At times, it felt as though the paddle may be ripped from my hands. After about an hour of paddling, we were able to seek some refuge in a small protected lagoon on an island north of our previous night's camping spot.  We took a break and tried to look for campsite on the map. We paddled for another 45-minutes north and stopped along the north side of Link Island.  We spotted a nice area, protected by the wind. We got out of our kayak to inspect the area.
"I found one….and another," I heard my husband say from a short distance away. I called back, "three more over here!"  We both agreed – five piles of bear scat were too many to make this our camping spot. We headed back to the kayak and inspected the map.  We both agreed that we should check out the mainland, which appeared to be maybe a 15-min paddle over open water, with whitecaps and howling wind.  Back in the boat, we started to paddle and it was grueling with the gusting wind and waves.   Unfortunately for us, this site also had lots of evidence of bear activity. We climbed back in the boat, checked the map and discuss our route. We decided paddle to a group of islands just north of Link Island, but off the mainland. We thought one of those islands would be less likely to have food, therefore less likely to have bears.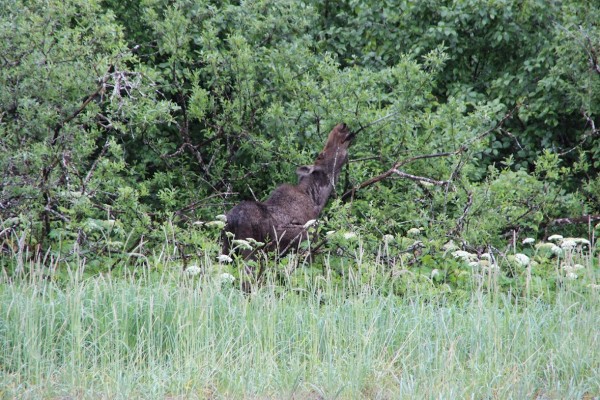 Just as we pulled the kayak onto shore of the island, the sky opened up and it began to rain. We inspected the area for bear activity, and found one pile of scat. One isn't so bad and we picked a spot further down the beach to pitch our tent. We made some dinner on the beach, hid our food downwind of our site in bearproof containers and climbed into our sleeping bags at 6:30 PM. The rain continued all night, until the next morning around 10 AM.  That night, we hung out in the tent, doing crossword puzzles and talking about our previous adventures – skiing in Canadian Rockies, Honduras, fishing in Alaska and the encounter with William Shatner on the Hawaiian Island of Lanai over Christmas holiday.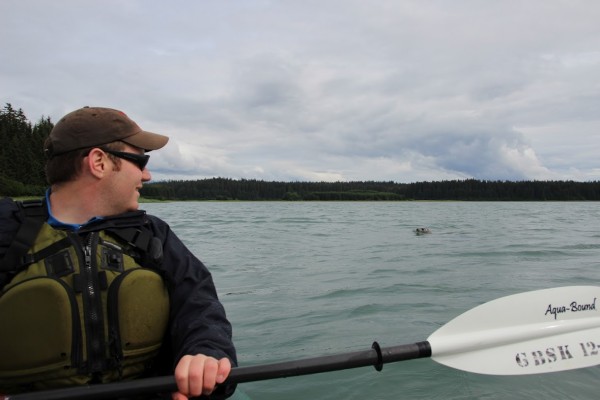 The rain subsided the next morning and the sea was calm, much a lake. We watched six harbor seals play in the water, while we munched on breakfast and much needed hot coffee. In the distance, we heard some loud exhalations. We learned later that they were most likely humpback whales breaching just south and east of the islands where we were camping.  Today, we planned to paddle 8 miles back to Bartlett Cove. With the incoming tide, we hopped in our kayak and started to paddle south. The weather was wonderful. With no wind, you could hear the birds, marine life and sometimes the absolute silence of being in the wilderness (no boats, no aircraft and no people). Within a few minutes, we had another harbor seal following us. Then, out of the water, popped small dorsal fin. Now, we had a harbor porpoise also following us.  A few moments later, we spotted a moose on an island feasting on small trees and vegetation.  We continued south past our first camping spot and back through the inlet to Bartlett Cove, where the clouds had parted and the sun was shining.
As we pulled our kayak up on shore, I asked my husband, "So, what's the plan for next weekend?"
He replied, "How about dipnetting on the Kenai River?"
"I'm game."