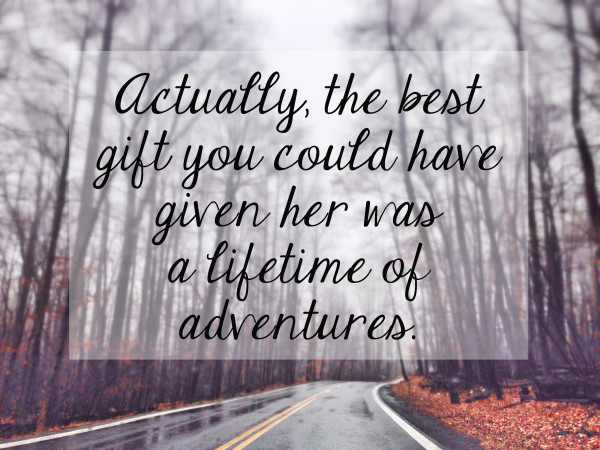 I just finished reading Lost Girls, a tale of three women who quit their jobs to set off on a round-the-world trip for a year, and much like What I Was Doing While You Were Breeding, parts of it struck so close to home that I felt that I had written them myself. In one of the last chapters, I found myself:
"I hadn't acknowledged my feelings until now, but they hit me full force: I was ready for something more than just a job. I wanted what most women secretly (or not so secretly) want deep down–to fall in love, to be a girlfriend or a wife, to come home to someone who wanted to come home to me. I'd never really made much space in my life or my heart for these things before."
Over the past year and a half, I've reveled in the fact that "I'm a strong, independent woman, and I don't need anyone." And while that's true, I don't need anyone, it doesn't stop me from wanting someone. Even while traveling full-time, the subject of love weighed on me heavily. I looked forward to coming back to the States and finding a place of normalcy again–one where I could have routine and maybe meet someone who could be that partner I was looking for. But, much to my dismay, I got in my own way. As much as I wanted love, I didn't open myself up to the possibility of love because that also felt like a loss of independence and freedom–a loss of travel.
Last month I went to Nashville to see my granddaddy who'd been diagnosed with pancreatic cancer just a couple weeks before. The doctors gave him a few months, then a few weeks, and then a few days within that couple-week span of time. The morning after I got there, our whole family–his wife, five children, some of the spouses, and half of the 14 grandchildren, crowded around his bedside to say our goodbyes. When my nana, his wife of 64 years, made her way to him, she told him how much she loved him and that was going to miss him so much, and while it was devastating to watch, it was also one of the most beautiful things I will have ever witnessed: to watch this woman so in love have to say goodbye to her lifelong partner, whom she'd respected, taken care of, and shared a lifetime of memories with.
After he passed away that morning, we all headed back to their house to grieve and to share memories. And while flipping through page after page of scrapbooks that my nana made, chronicling their life together since the 1940s, I saw adventure after adventure they'd gone on to various parts of our own country and abroad. And it occurred to me that love doesn't have to mean a loss of freedom, of travel, but it can instead mean a lifetime of beautiful adventures with a person you love by your side. It's always felt like a one-or-the-other situation: love or travel; but it finally dawned on me that it doesn't have to be.
While I will never put travel on hold and it will never not be a priority for me, I'm also finally allowing myself to be open to the possibility of finding a love as grand and as beautiful as my grandparents had for one another. Of finding a partner like my gentlemanly granddaddy, who will always support me in my endeavors and who will be my side for a lifetime of beautiful adventures.