I am a notorious over-packer. Sometimes for 3-to-4-day trips, I'd pack at minimum 5 pairs of shoes and 6 outfits. But I'm a girl who likes options. So when I was gearing up for my trip to Europe (and Morocco) I had a really hard time determining what to take with me. Naturally, I wanted to pack my entire closet, but that was impossible (because what I didn't mention was that I'm also a clothing/accessory hoarder–I have 40+ dresses, 40+ cardigans, and 40+ scarves along with everything else I own).
Everything I'd read said to pack versatile pieces, no jeans (instead cargo and convertible pants), only two pairs of shoes, fleece… the list goes on. But I knew that wasn't me. I feel like such a prissy bitch saying this, but fashion does matter to me. I knew I didn't want to spend my time abroad worrying about whether what I was wearing was appropriate for any given situation, so I wanted to ensure I was covered on all bases.
So, here's what I, a fashion-conscious woman, packed for three months in Europe during Fall and Winter months.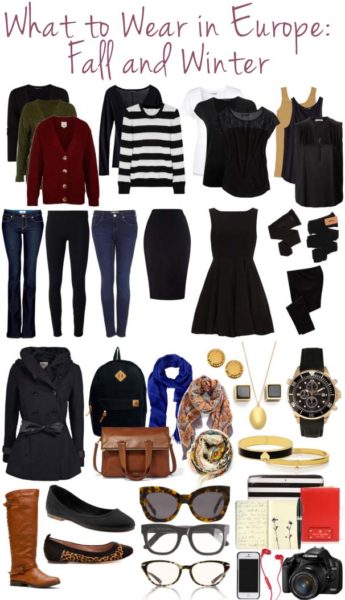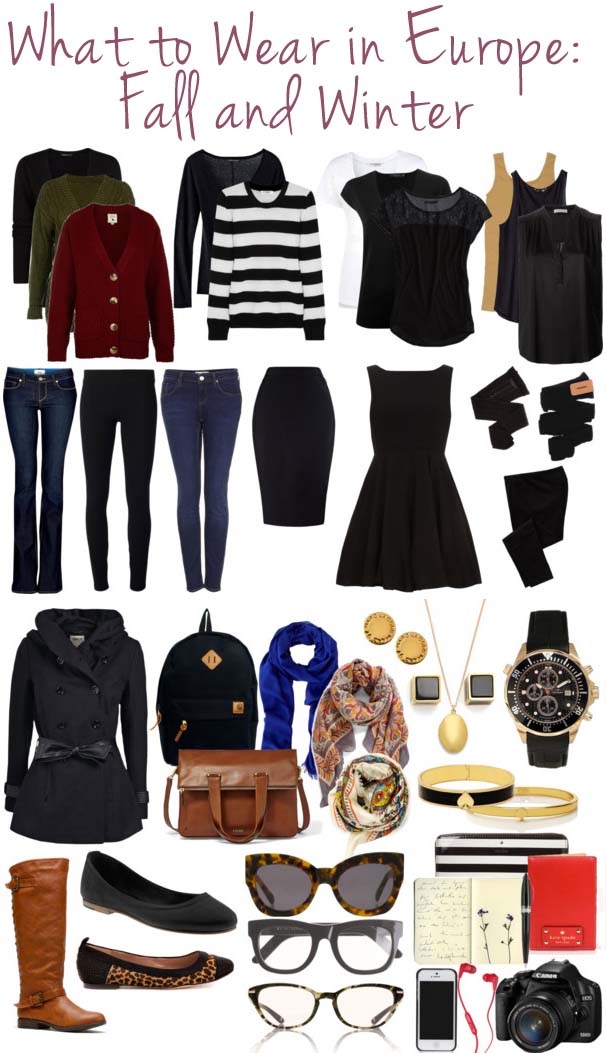 I tried to pick neutral colors (which ended up being mostly black) that I could accessorize with colorful scarves. I also packed very basic jewelry, shoes, and purses (I had black and brown, but ended up throwing the black one away because it didn't hold up well) that would work well in almost any situation. I figured if I needed anything extra, I could pick it up along the way. Towards the end of the trip I was getting really bored with my options, but I was glad that I packed things that mixed and matched so easily.
So, what ended up coming along with me in my bags?
Clothes
4 cardigans (black, grey, maroon, and olive & black striped)
4 tanks (white, tan, 2 black–one basic, one dressy)
4 t-shirts (3 black, 1 white)
1 long sleeved t-shirt (black)
1 sweater (striped black and white)
1 raincoat with a hood
1 dress (black)
1 skirt
1 pair of thick leggings (black)
1 pair of jean leggings
1 pair of bootcut jeans
1 pair of yoga pants
1 workout shirt
1 pair of sleeping/traveling pants (which I wouldn't take again)
1 sports bra
2 bras (black and white)
14 pairs of underwear
2 pairs of tights
1 pair of legging-style tights
1 bathing suit
5 pairs of socks (various styles–wool, short athletic ones, etc.)
Accessories
4 scarves (I acquired 3 while traveling–I only left with 1)
3 necklaces
2 bracelets
1 watch
2 pairs of earrings
2 belts (black and brown)
Shoes
black flats (with good support)
leopard flats (for dressy occasions)
brown boots
sneakers
flip flops (for the shower when I stayed in places with questionable facilities)
Toiletries
I'm not going to list everything–it gets pretty messy. I took the basics (shampoo, conditioner, toothbrush/toothpaste, eyeglass/contact stuff, etc.) and also accounted for random things like various kinds of over-the-counter meds, tampons, q-tips, extra prescription meds, bandaids, etc.
Random Extras
Laundry detergent packets, clothesline, sink stopper (for if I had to do laundry at a hotel)
Jumprope and resistance band (for those workouts that never happened)
Flashlight
Plastic utensils
Nail polish/nail polish remover pads
Carry-On (Plain black backpack)
MacBook Pro
External Hard Drive
DSLR
2 lenses: wide angle and zoom

Camera goodies (extra batteries, battery charger, extra memory cards, card reader, etc.)
Converter
Kindle
Sony H.ear on Wireless Noise Cancelling Headphone

Powerstrip
iPhone USB cord
Business cards
Makeup bag
Reusable Water Bottle
Purse
Wallet
iPhone
iPhone Lenses

Passport
Moleskine and pens
Lipgloss, lotions, etc.
Overall, I feel pretty good about what I packed. It might be too much for a lot of people, but for someone like me it was just enough. I had a few hiccups along the way and had to scramble to buy a few things or have things brought to me from home (thank you, friends!), but I think I've got it all pretty well figured out for my next round of travels.
Lastly, I bought travel insurance from Worldnomads.com so that I was protected. I was carrying entirely too many electronics with me to not get insurance. I did quite a bit of research before determining this was the insurance I wanted to go with, and while I didn't need to use it at any point, it gave me peace of mind to know it was there.
What would you add or remove from my list?
Note: The companies above did not pay me for mentioning them. I genuinely love and use everything I've written about. However, the Amazon and World Nomads links are affiliates for which I will receive a small commission if you should purchase something. Thanks for supporting Meganotravels!