Until recently, it didn't really occur to me that some people put whale watching on their bucket lists. It was something that was always sort of in my peripheral, but it wasn't ever something that I was just dying to do. A couple years ago, I'd made plans to go whale watching in South Africa. That venture was thwarted by choppy waters, but our consolation prize was to instead go hippo watching.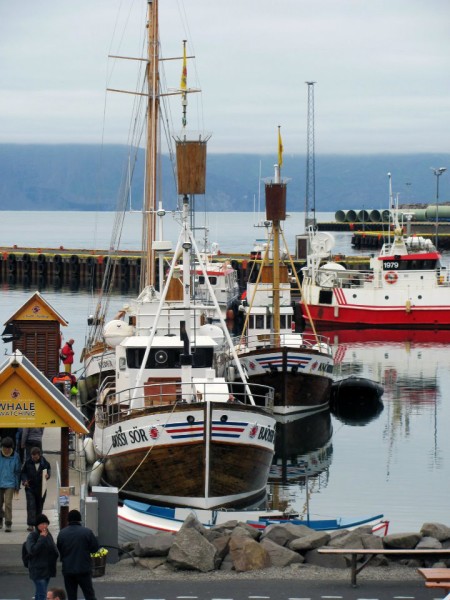 Fast forward one year to a trip to Iceland. Iceland's a country that boasts tons of adventure and outdoor fun, so before my trip I decided I wanted to pack in as much as possible. There are a ton of companies that offer whale-watching tours from various places throughout Iceland. I knew I wanted to see puffins as well, so I settled on a Whales, Puffins, and Sails tour offered by North Sailing based out of Húsavík.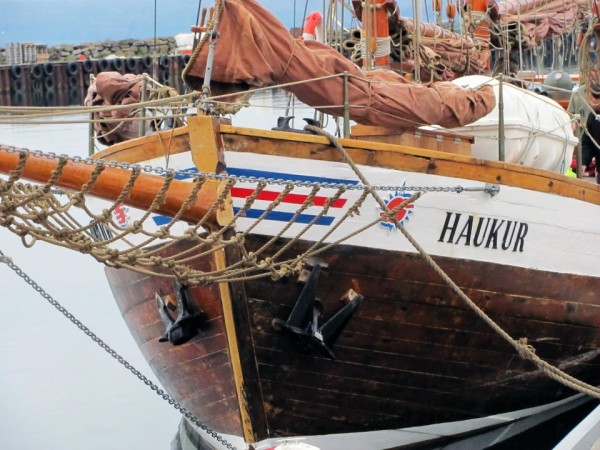 I arrived pretty early (for me) and collected my ticket and headed down to the dock to board the boat. The boat was gorgeous and I was so excited for the impending adventure. When I got on deck, I was promptly handed a suit to stuff myself into to. The suit was meant to not only keep me warm, but to help me stay afloat in case I fell overboard. To be frank, the suit was the worst part of the experience for me, because to this day I'm convinced they handed me a petite suit–not only was it ridiculously tight, but it was also about six inches too short on my legs (and I'm 5'8″, so not a giant). But, since I don't like confrontation, I sucked it up and wore it for the entire four-hour journey. (You can kind of see the look of misery on my face in this photo. I just wish you could also see how short the pants were.)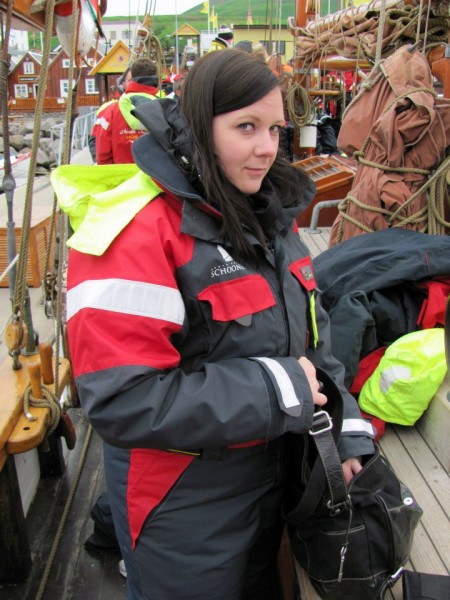 Horrid suit aside, the tour was amazing. The guides on the boat were really informative and knowledgeable, taking us around Puffin Island and getting us close to the Arctic Circle to observe some whales in action. One of the things that I really liked about the tour is that they addressed the controversial issue of whaling. A lot of people have really strong feelings about this issue, and without weighing in on my personal beliefs, I simply want to reiterate what I heard on this tour: there's a cap on the number of whales they're allowed to kill and they only hunt certain types. One of the types they mentioned was Minke whales, and, again, according to them, there is a healthy abundance of this particular type of whale, so the whaling efforts don't really affect the population. Regardless of my thoughts on the subject, I found the facts informative and worth hearing.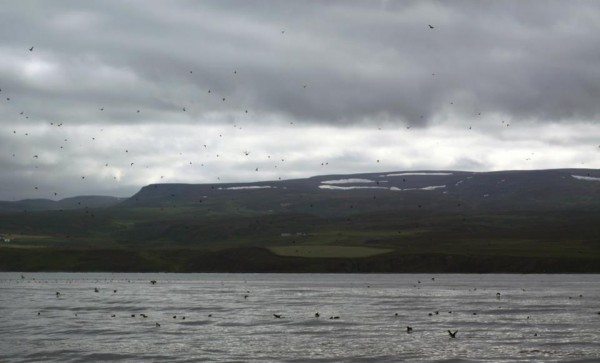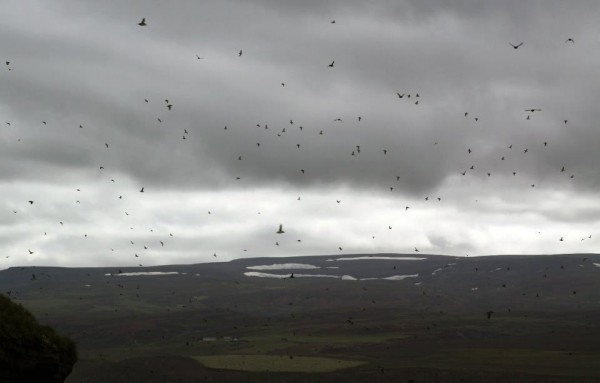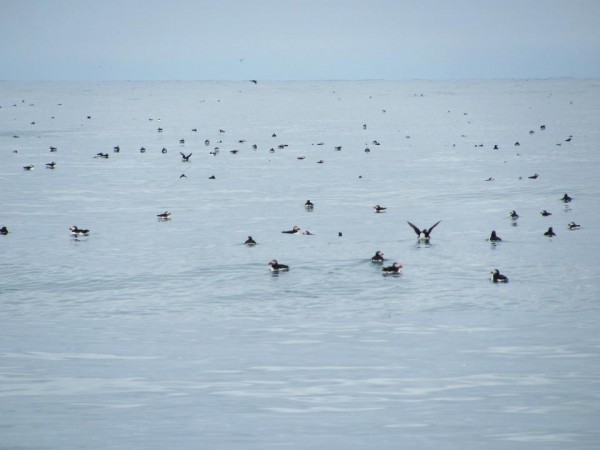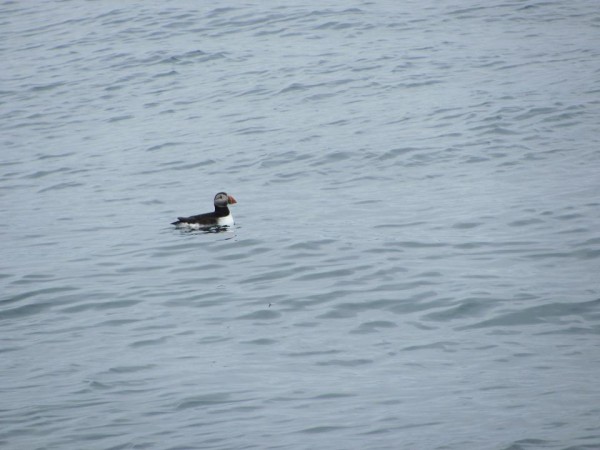 Back to the tour. In four hours, we covered a lot of ground and managed to see not only a ton of puffins, but quite a few whales. By the way, puffins are beyond adorable. Watching them try to take off by catching a wave for momentum to fly is the cutest thing ever. (So many botched attempts.) To catch the whales, our guides took us to a few different places, stopped, and turned off the engines so there was complete silence while we waited. Then we'd all be on the lookout and inevitably you'd hear a few people get giddy with excitement when they'd spot one and all of us would run from side to side on the boat trying to catch a glimpse. I can't say exactly how many I saw while on the tour, but it was enough to feel like I'd really gotten my money's worth. (I was also there at the very end of the season, and we were warned before going out that we may not see any because of that.)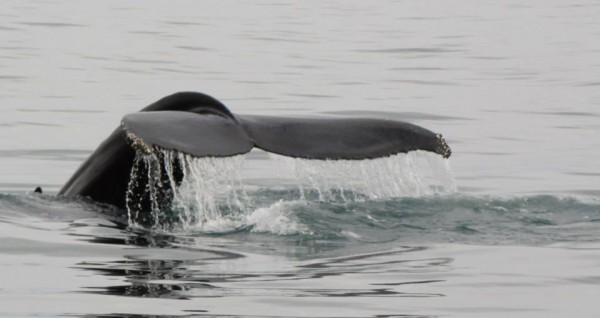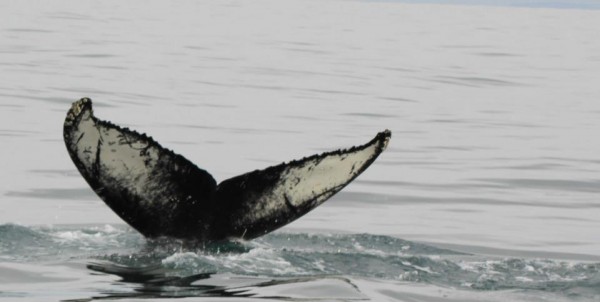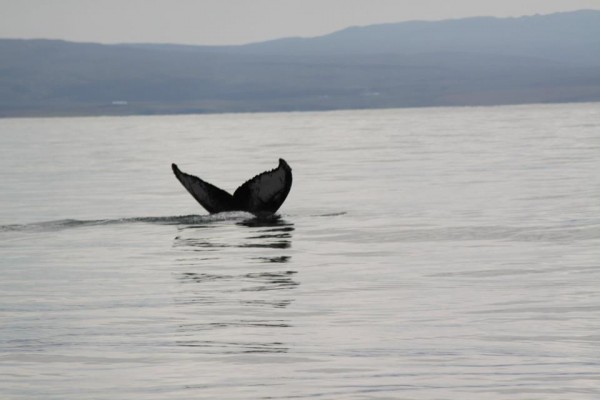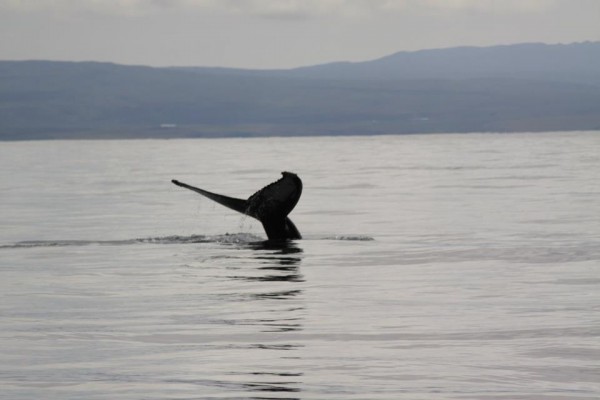 When all of the whale and puffin watching was over, it was time to put up the sails, cut the engine, and head back to the dock. They asked for volunteers to help with the sails, and it looked much harder than I'd imagined. While sailing back, we were supposed to be treated to hot chocolate and cinnamon buns, something all of us were looking forward to in order to warm up a little! Unfortunately, our guides had forgotten the hot chocolate! They quickly remedied this by radioing home and having a few people come out to our rescue with the hot chocolate on a little motorized lifeboat (this was totally necessary). The day was saved and I think it's safe to say we all had a great time on that tour.