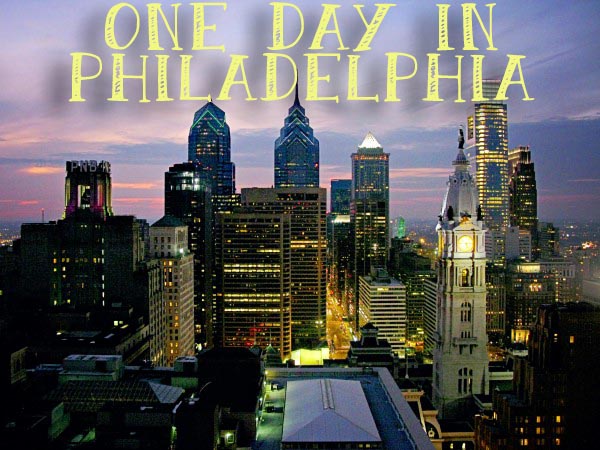 Despite the fact that Philadelphia is, in fact, two hours east of where I grew up in Pennsylvania, it's always felt like home to me. And it's where I often tell people that I'm from (because honestly, it's easier than "do you know where Harrisburg is? Yeah, I'm from 45 minutes south of there.").
I always look forward to going back for a visit, seeing my friends, being in familiar territory, and eating all the delicious foods. When my friend and I were planning the route for the road trip from Austin back to Pennsylvania, she was eager to see all of these Northeastern cities she'd never visited. And unfortunately, due to a time constraint, we knew we'd only have time to see Philadelphia for a short while before making our way to New York City.
So, what do you do with just 24 hours in Philadelphia? Philadelphia is home to so many things to do for people with varying interests. One day certainly isn't enough time to do half the things that I'd suggest doing in the city, but it gives enough time to scratch the surface of some awesome things.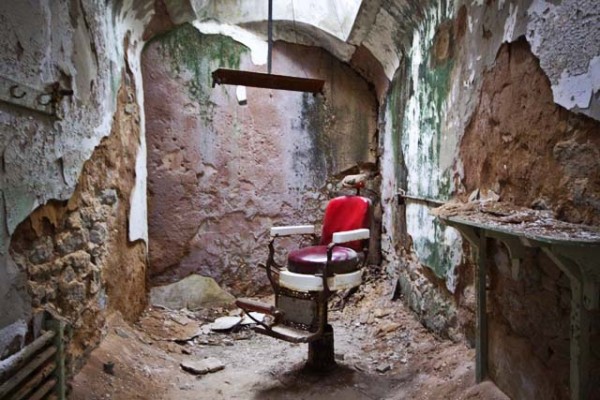 Eastern State Penitentiary
I've written about this place before and have visited more times than I count, and it never loses its charm for me. Grabbing an audio guide and having Steve Buscemi narrate your way around the grounds and the old jail is the perfect way to spend a couple of hours. Eastern State is creepy even in the best weather conditions, so when we showed up during a downpour, it was exactly the ambience to make that place come alive. When you plan your visit, be sure to take notice of all the little details that make this place so special–the colors, the textures of chipping paint, the weird placement of furniture inside the cells, etc. Every time I visit, I end up discovering something new. And, it's got rolling exhibits and right now one of the cells has an entire vehicle inside of it!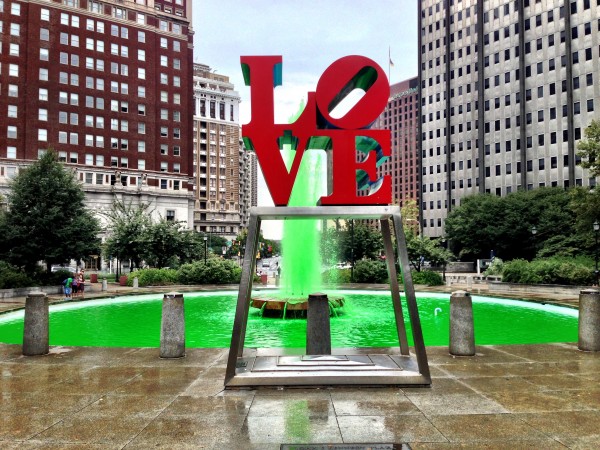 Love Park
No visit to the city is complete without a visit to Love Park. It's one of the most iconic images of the city and since it only takes a few minutes, it'd be lame to pass it up. The color of the fountain changes sometimes depending upon holidays or different sports teams. The only thing I can come up with is that it's football season and the Eagles colors are green, which is why the fountain is green. (This could be a total stretch though.) Love Park is often overcrowded with tourists hoping to snap their photos in front of the sculpture and fountain, but it's still worth the stop. On a nice day, it's a great place to take a little reprieve–stop and have a drink or a snack there and people watch.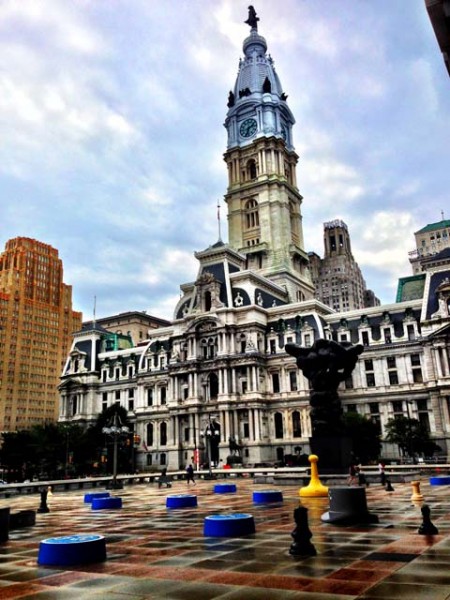 Game Piece Plaza
Not far from Love Park, and directly across from City Hall (my favorite building in probably all the world) is Game Piece Plaza. This plaza features oversized game pieces from Monopoly, Sorry, Bingo, Chess, and Dominoes. You can pile into the oversized wheelbarrow, sit on the rook, or pretend to be crushed by falling dominoes. It's kind of cheesy, but again, doesn't take long and it's a totally random thing to have in the middle of a city.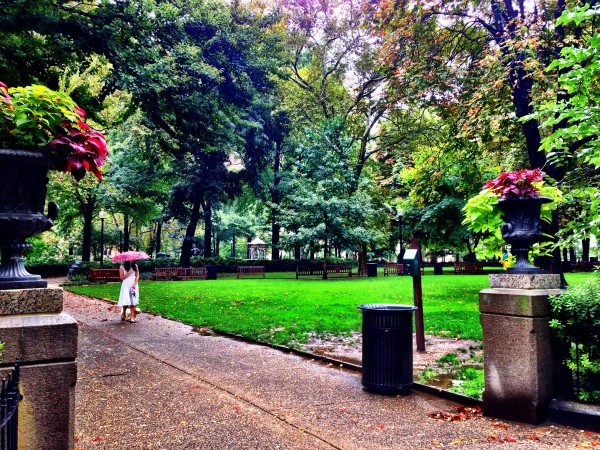 Rittenhouse Square
Smack dab in the middle of some major shopping streets, Rittenhouse Square is one of five lovely parks in Philadelphia. Rittenhouse Square is always teeming with people, and it seems as though it's mostly locals–walking their dogs, having an afternoon picnic, lying on the grass reading, etc. It's a great place to relax for a few minutes and people watch. After a few minutes on one of the park benches, it's easy to forget that you're right in the middle of a major city. Plus, it's just damn beautiful.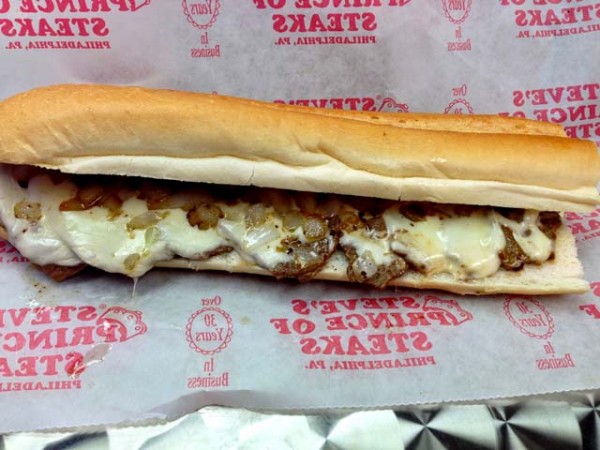 Eat Cheesesteaks!
You cannot go to Philadelphia and not eat a cheesesteak. There are practically wars over who offers the best cheesesteak in the City of Brotherly Love, so just take your pick of place and give it a whirl. If you're there for longer than an afternoon, try several places and make up your own mind. My personal preference for preparation is with mozzarella or provolone cheese (forget the whiz) and sautéed onions. But whatever your preference, don't pass up a cheesesteak. Lots of places even offer veggie or chicken varieties too, so don't let your dietary restrictions hold you back!