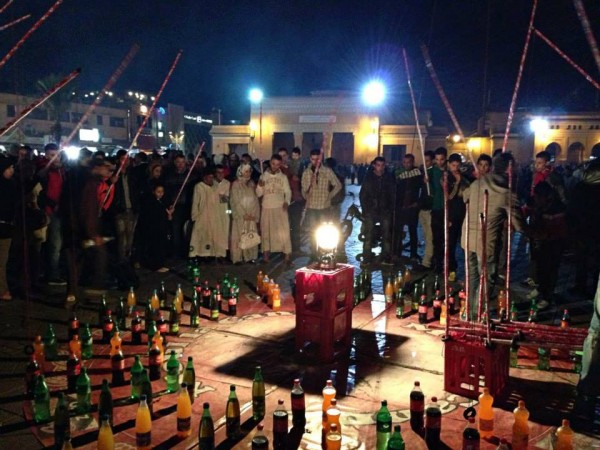 When I visited Marrakech, Morocco, one night I met up with my lovely friend and fellow travel blogger, Jill, and her beau Mike for a night in the square: Jemaa el Fna.
There's so much to see in Jemaa el Fna, at all hours of the day. You'll find people touting spices and cookies; orange juice stands; women who will chase you down and try to put henna on you; snake charmers; pop-up restaurants; monkey handlers; and cross-dressing men who dance in front of audiences. But one very popular past-time seems to be this odd game where you have a weighted ring tied to the end of a string that dangles from a wooden pole. You then try to get this ring around the cap and neck of a bottle of soda, which are arranged in a circle, and if you get it–you get to keep the soda! It's a pretty inexpensive game, but also a mildly irritating one because it's a lot more difficult than you'd think! The men who run the stands make it look so easy, but stand around and watch the people try it for a few minutes and you'll see that it's not. The guy who ran the place even explained to us how he did it, but none of us could figure it out.
If you're hanging out in Jemaa el Fna, spare a few dihram and give it a shot!
Like the photography on Meganotravels? Check out my Etsy shop to order prints!