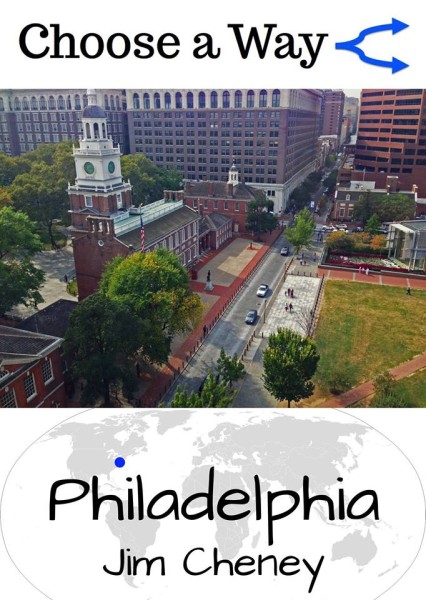 When I was a kid, I loved those choose-your-own-adventure books. You know the ones: where you get to the last page of a particular chapter and it'll give you the option to choose between two other pages to head down the next path of the book. There's something exciting about the unknown and discovering new things. Perhaps that's why I love to travel kind of blindly too: learn a bit about a place and then hit the ground running, eager to stumble upon new and awesome things.
That's where my friend Jim Cheney's new book comes into play. Choose A Way: Philadelphia is a grown-up travel version of those choose-your-own-adventure books that I loved as a kid. The book features 39 different things to see and do in the City of Brotherly love, some of which I've already talked about on my blog and others that are actually new to me (and I consider myself somewhat of a Philly buff!).
The thing I love about this book is that you not only get to pick between a lot of awesome choices, but that it lays every day out for you beginning with your start time. Not only that, but it's got up to five days' worth of things to explore.
My recommendation for this book is to check out the index and to read through everything that's featured so that you have an idea of things you'd like to do. With only a couple days in a particular city, it's nice to know what's on offer to start with. The book features everything from museums and historical sites to bars and restaurants. (The only thing I'd add is Rittenhouse Square after an afternoon of shopping!)
After you've familiarized yourself with what you can do in the city, you'll have a better idea of which choices to make as you follow along with the guide. Start at 9am, get some coffee and breakfast at Reading Terminal Market, hop over to Magic Gardens, take a few hours to browse the Mütter Museum, grab a cheesesteak, and go to a brewery for some beers. Whatever your thing is–history, art, food, etc., you can cater a plan for yourself daily for up to five days.
Another great feature of the book is that it gives you location information, hours, days of operation, and cost. You could spend hours trying to get all that information and plan even just one day of travel (I know, because I've done it), but all the work is done for you here, so take advantage of it!
The book will only run you $6.99, so it won't exactly break the bank. You can purchase it from Amazon and from ChooseAWay.com.
I'm already thinking of when I can get to Philly next so I can put this book into action!