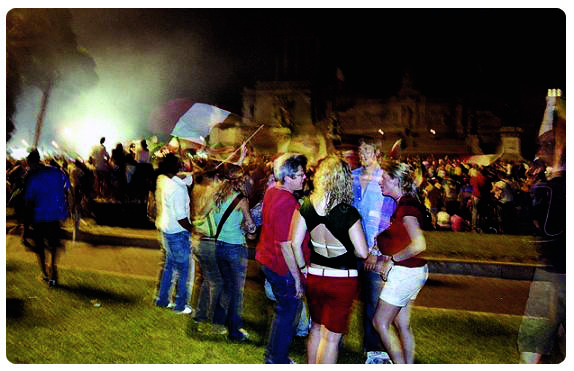 So, 2006 was a World Cup summer. I have never been a sports fan. Not playing. Not watching. But when in Rome.. so I spent the entire summer watching Italy play.
I went to bars and cafes with classmates to see some games. Some I watched at home with my Italian roommate. Went to Circo Massimo for others. The wins were always fun—to see people go crazy and fly flags from their car windows, and honk their horns the whole way home. They chanted the tune to The White Stripes' "Seven Nation Army"—bum, ba bum bum ba bum bum. It was an amazing experience to see that.
And then, came the last game against France. This was an especially memorable experience. I was sitting in a pub close to the Vittorio Emanuele Monument with a group of students from another class. Sitting next to me was a French-Candian student, and when I looked at him, we were both watching the last few penalty kicks through our fingers, on pins and needles just waiting for the outcome. When Grosso scored that last goal, the place exploded. Italy: Campione del Mondo!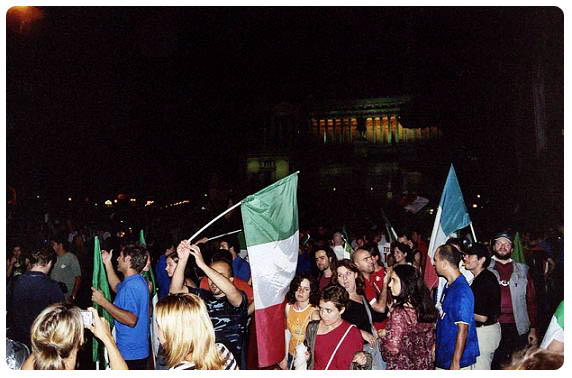 We stumbled out of the pub onto the street in front, and there was already an impromptu parade to the Vittorio Emanuele Monument to celebrate. Men in maroon togas tipped over garbage cans and rolled them to the monument to make fires. People sang, danced, and drank while cheering. When the partying died down, my American roommate and I decided to make our way home.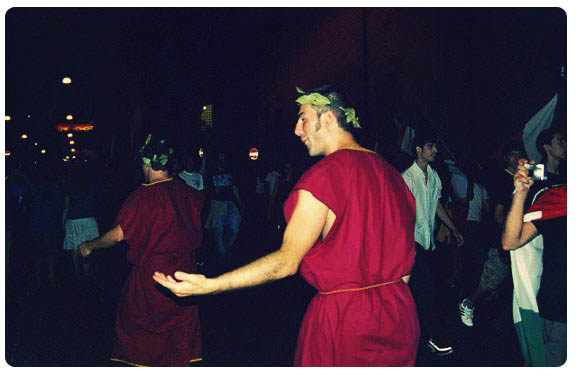 Since the streets were closed down, that meant no cabs. And it was so late that public transportation wasn't running. So we had to hoof it from the Vittorio Emanuele Monument to our apartment by the Vatican. This should've been only about a 40-minute walk at a decent pace. But as we were walking back towards the pub where we'd watched the game, people behind us started screaming, shouting things in Italian, and running. The bouncer at the pub yelled "Vai! Vai! Vai!" and pulled us back into the pub. Apparently, there was a man behind us running with a knife, chasing people. When the coast was clear, we ventured out again. This time we made it a bit further before people started screaming, shouting things in Italian, and running the opposite direction. We saw people on the street throwing bottles at the Carabinieri, who were all wearing helmets, and were wielding batons and shields. So, my American roommate and I turned, ducked in an alleyway, and reassessed the situation. We decided that perhaps our route was not the best choice and decided to go another way. We eventually made it home safely, but around 4am.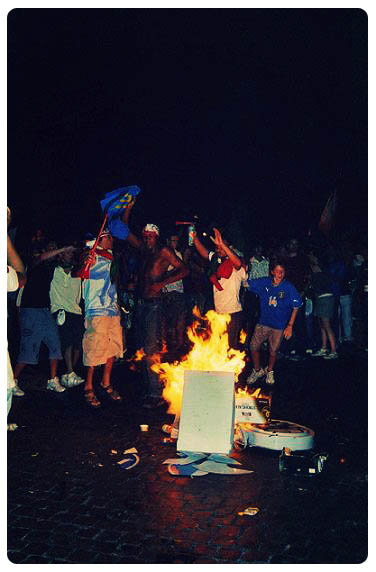 The next few days were awesome though. Merchandise popped up everywhere saying "Campione del Mondo." When the Italian team came back, they paraded through the streets to cheers and much love. The newspapers (which I still have) were plastered with that famous photo of Cannavaro being hoisted up by his teammates, holding up the World Cup trophy with confetti falling down around them.