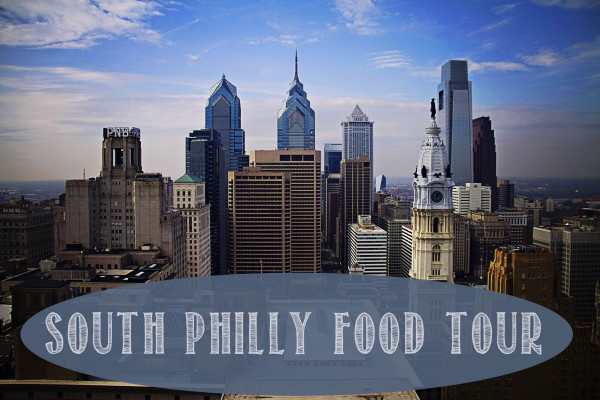 Over 1.5 million people call Philadelphia home, and of that number, around 600,000 are immigrants. That means one amazing thing in my eyes: diversity. Of culture, of language, and especially food.
I visited Philadelphia last weekend with one mission: go on a food tour of South Philly with my friends Dana and Chad, who run the awesome podcast, Jeet Yet?, highlighting and reviewing some of the tastiest eats in the City of Brotherly Love. We tossed around a lot of ideas for this food tour and ultimately settled on one that pleased both of us: exploring the cuisines of the burgeoning ethnic groups moving into South Philly. The area was originally Jewish, then Italian, but has now seen an influx of Southeast Asians and Mexicans, meaning the food choices have grown beyond pizza and pastrami.
So, we spent about seven hours walking roughly nine miles, stopping at one eatery after another, tasting as much as we could before our stomachs, feet, and wallets started to feel the impact.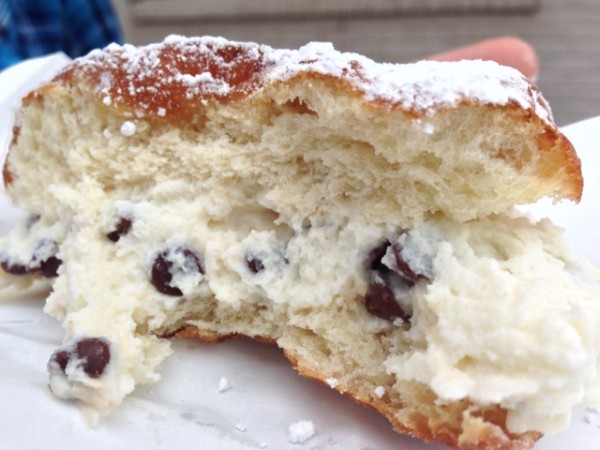 Frangelli's Bakery (Italian)
Frangelli's opened in 1947, and while it changed locations (by a few blocks) just once in that time, their operation has remained relatively the same. They have the classic donuts–glazed, filled, etc., and the newest crazes–cronuts (croissant+donut) and donnoli's (donut+cannoli). Not only are their pastries fresh, but the filled ones are made to order–you want jelly? They'll fill it for your right there on the spot. None of those soggy jelly donuts here.
What did I try? I had a glazed cronut (they were out of glazed donuts, sadly) and shared a donnoli.
Verdict? I loved the glazed cronut. It was a different and more doughy texture than the flaky cinnamon-sugar variety I had in Montreal, but I loved it. The donnoli was.. interesting. I don't know that I'd ever eat one again. One of the great things about cannoli is the crunchy shell paired with the soft inside. A donnoli is all soft. I missed the different textures.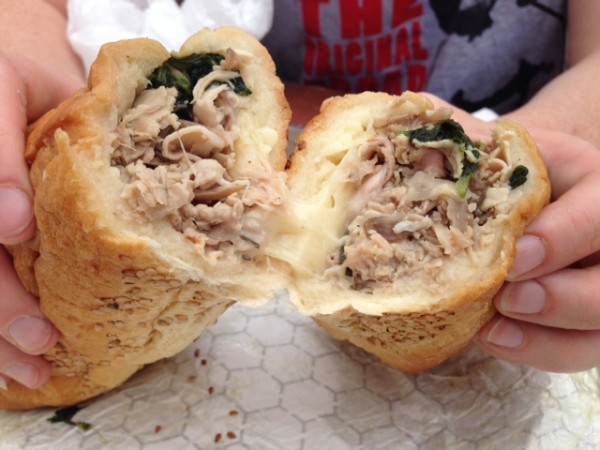 John's Roast Pork (American)
John's Roast Pork is a place that Dana and Chad had been raving about. It wasn't originally going to be on our tour as it's not really part of the whole ethnic cuisine idea, but they insisted that Philadelphia should be known for the roast pork sandwich instead of the cheesesteak, so I needed to try it myself. John's has been around since 1930, and is a place where the dockworkers used to go to fill up on hearty eats while working long, hard days. The place itself is totally unassuming and you shouldn't expect much: you line up, order your sandwich, they slop it together in front of you, you pay, gather your own toppings, and share a picnic table with anyone who is kind enough to let you.
What did I try? Roast pork sandwich with provolone and spinach. (The sandwiches are huge–we got a large and split it four ways.)
Verdict? I feel like I should preface this by saying that I'm not a pork fan. I might eat bacon or sausage on occasion, but never any other variety. I was pushing myself out of my food comfort zone here to try this, and damn, am I glad I did. The flavors of this sandwich were incredible. The meat was tender, juicy, and amazing. Whatever it's roasted in is absolute perfection, and combined with the provolone and spinach–fabulous.
Italiano's Water Ice (Italian)
Almost everyone thinks of Rita's when they think of Water Ice, but Italiano's has been a South Philly staple for decades. Their menu isn't extensive, but it doesn't need to be. There are about 10 flavors of water ice, a few ice cream flavors, and any combo of gelati you can create with those. (Side note: they claim to have coined the term "gelati" [water ice+ice cream] in 1975, which the sign on the front will remind you.) The operation is simple: order the size and flavors you want at the window, hand over your cash, and a few seconds later you've got your treat. Ever notice how at Rita's they take like 10 minutes to throw together a gelati? Not at Italiano's. You have that thing in under a minute and you retreat to the street to enjoy.
What did I try? Black cherry and vanilla ice cream gelati.
Verdict? I mean, really, how can you go wrong? It was delicious. And I want another right now while thinking about it.
SkyCafe Restaurant (Indonesian)
Quick confession: I didn't actually go here. We ordered delivery. So I can't comment on the ambiance or location of the restaurant, but that doesn't matter. The food does. SkyCafe is one of the top-rated Indonesian restaurants in the city, with 4.5 stars on Yelp. And my food tour gurus often eat there, so I figured I was in good hands for my first Indonesian food experience.
What did I try? Fried wontons, mie ayam (egg noodle with chicken, mushroom, wonton, and veggies in a chicken broth), and beef satay
Verdict? The mie ayam was fantastic. The noodles were almost like ramen noodles–consistency and shape-wise, the broth was so flavorful and full of spices, and the spicy sauce they served on the side was the perfect amount of heat. The fried wontons and beef satay were what you'd expect. They were good, but didn't stand out for me.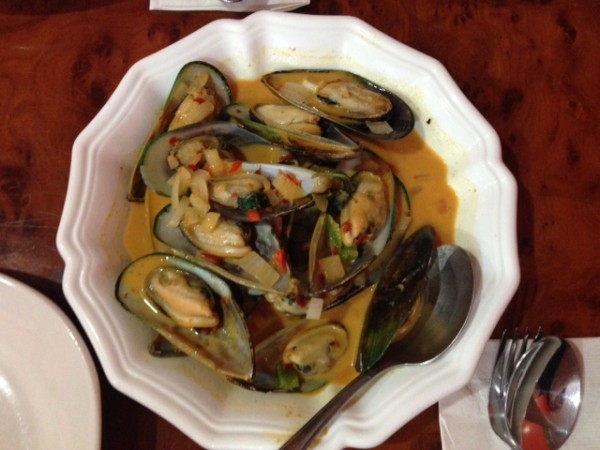 Khmer Kitchen (Cambodian)
Khmer was another very unassuming venue, but when I walked inside, it was jam-packed. There was only one table left and by the time we finished and left, there were a lot of people waiting for tables. The service was pretty slow, but the food made up for it.
What did I try? Papaya salad and red curry muscles
Verdict? Holy. crap. Let's start with my least favorite of the two (which was still pretty amazing): the papaya salad. It was spicy and fabulous. The only thing I didn't like was the consistency, but I'm just weird about things like that. But the mussels. Oh, those mussels. They were quite possibly my favorite thing of the entire day. And that curry sauce? I could bathe in it. Curry's one of my favorite things in the entire world, and they did it right. It was so packed with flavor and spices, and just the right amount of heat to go with the mussels. Honestly, I think I'm going to be dreaming about that curry for weeks to come.
Los Gallos (Mexican)
I believe Los Gallos was rated one of the top Mexican joints in the whole of Philadelphia, so to say I was excited to try their tacos is an understatement. I haven't had many tacos since moving from Texas because nobody gets them quite right. I think Tex-Mex has its place, but I've really missed the Taqueria-style tacos–you know, with a bit of meat, some cilantro and onion, slapped on a corn tortilla. This place looked authentic from the moment I walked in, so I was feeling pretty confident in our choice. The service was impossibly slow (I think it took an hour and a half to bring out 6 tacos and some guacamole), but it was busy in there, so I'll give them the benefit of the doubt.
What did I try? Chicken tacos, steak tacos, and guacamole.
Verdict? Avocados are second to curry in my list of favorite things, so I was eager to dive into some guacamole. However, I wasn't impressed. There was a bit too much lime in it for my taste. Oh well. The tacos more than made up for it. The chicken was my favorite. Just perfect. And the corn tortillas? I could've eaten a stack of them plain. I'm guessing (hoping) they're homemade, and not only was the flavor fantastic, but they weren't too dry, which is an issue I run across far too much with corn tortillas.
All in all, I'd say it was a successful day of eating. I had a great time exploring Dana and Chad's backyard with them and tasting flavors from around the globe. There are certainly plenty of other places to eat in South Philly (and all of the city, for that matter), so I'll certainly be hitting up the masterminds behind Jeet Yet? to plan another tour (I'm thinking a few of those restaurants on Passyunk are in order). If you're headed to or live in Philadelphia, be sure to check out their podcast so that you know where to eat in the City of Brotherly Love!