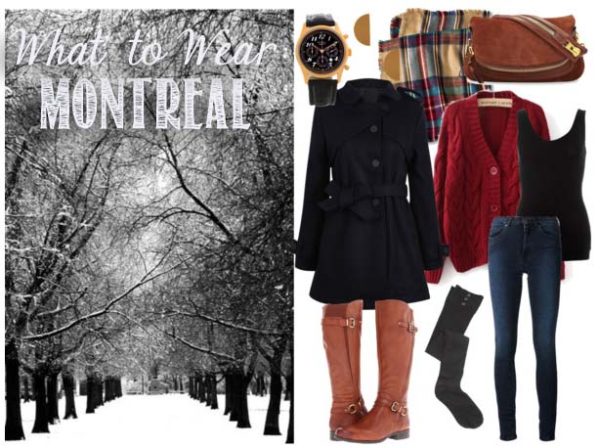 Ah, Montreal, a city that quickly captured my heart last winter despite its arctic chill. I wasn't prepared for the level of cold I was in store for traveling there in mid-December. I thought that coming from Pennsylvania would be preparation enough–how different could it be? But oh, how I was wrong. The bone-chilling, eye-burning, and nose-freezing sub-zero temperatures were a bit more than I bargained for. I often prefer traveling in winter months because you get to see a side of cities that you don't during summers when they're overrun with tourists, but I don't think I've ever willingly chosen to travel to a city as cold as Montreal in the winter months. That being said, with the proper clothing, it is possible to combat it a bit.
It's absolutely necessary to pack a thick, warm coat, scarves, gloves, hats, etc. I also packed a pair of leggings to wear under jeans on particularly cold nights when I was out and about. Beyond that, my tip is layers. Lots of layers. One of the most miserable aspects of winter anywhere is how warmly you have to dress to deal with the outside temperatures and how you instantly melt and turn into a sweaty mess when you go inside where the heat is blasting. That's why layers are your friend–just continue removing until you're comfortable.
Also, be sure to pack boots that you don't mind wearing in snow. The weather forecast before I left called for a couple of inches (2-3, tops) of snow, but you and I both know how quickly those things can change. We ended up getting about 2 feet. So, it's best to be prepared for anything.
A few other quick tips:
If you're planning to use your cell phone maps app, I recommend getting those cell-phone friendly gloves so that you don't have to remove your gloves every time you consult your directions.
If you have sensitive eyes, you may want to pack some sunglasses. They can protect from the wind, the sun glares off the snow, and can help keep in some heat to keep your eyes from freezing/burning.
Lastly, if you're as sensitive to cold temperatures as I seem to be (my friend who went along didn't have nearly as many issues as I did), take some of those little hand warmers that you can throw in your coat pockets.
Note: The Amazon link is an affiliate for which I will receive a small commission if you should purchase something. Thanks for supporting Meganotravels!