I've been hesitant about sharing this piece of writing because it's so personal. It's also been sitting in my drafts folder since April 30, 2012, which shows you exactly how hesitant I've been. In my personal journals, I often write little memories or vignettes about a time or place–something really special or meaningful. Anyway, after consulting a friend, I've decided to post it and wanted to ask for some feedback–do you want to read more stuff like this? Or do you hate it and want me to stick to more destination/adventure-specific posts (with minimal personal anecdote)?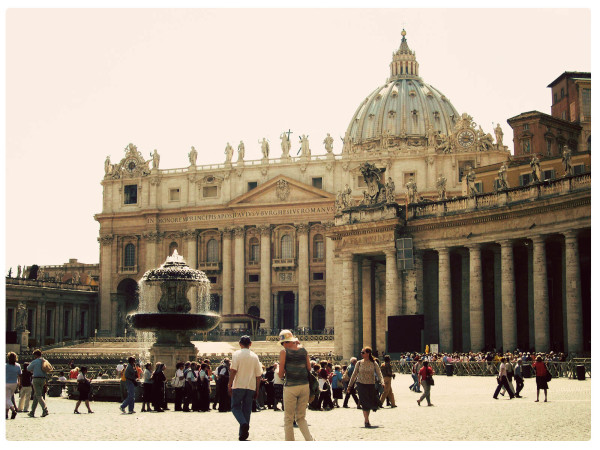 Will life ever be as beautiful as it was on those gorgeous summer mornings when I would wake in a sleepy daze, open my window, throw the shutters open and look down at the hustle and bustle on the cobblestone street below? Via Cola di Rienzo. Duecento settantuno.
The sun reflects off my sticky, moist, newly bronzed skin. I pull on a linen skirt, a light-weight shirt and a pair of flip flops and hit the marble stairs for three stories where the doorman opens those huge, old wooden doors and reveals the outside world to me. Right out of my building. Right at the corner. Cross the street. Left at the end of that street. Down the stairs to the metro. Wait for the air-conditioned cars. Skip the graffiti cars for fear of the overwhelming stench of pickpockets and beggars who've baked in the sun all day. Ottaviano to Termini. Jump out of the car into the main hub at the centro della città eterna. Up three flights of stairs. Take a left. Go up the escalator. Finally, the door. Business men in suits on motorbikes fill the street. The cafe at the corner when you cross the street smells strongly of espresso and everyone's fighting to get in. I pass it, happy that my roommate, Salvatore, makes homemade espresso for all of us. Go straight. Cross the street. Make a left. Finally, at school. I climb the spiral staircases up two flights. My classroom is on the left. Buongiorno, Susana! Due ore: Italiano. Solamente Italiano! On break, I eat a banana and enjoy a cappuccino con amici. Then take to the rooftop terraza with my classmate, Josefine, while she smokes a cigarette, we soak in the sun, and relate to each other in more ways than I can with most people.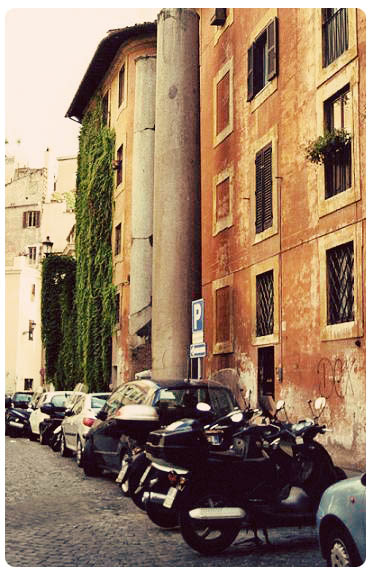 I think about "home" less and less. The idea of leaving this place gives me a pain deep to the core. I wonder if, when I'm back in the states, I can wear my red shoes, click my heels and say, "there's no place like Rome. There's no place like Rome." and be instantly transported back. I'll later find out this doesn't work and makes me feel ridiculous.
Two more hours of Italian and we find ourselves in the bar getting pasta from Massimo and practicing the language with one another around the table. Often, after giggles and correcting one another, talk turns to politics and focuses mainly on America. I learn to be an ambassador and to remain level-headed throughout these discussions. Most Europeans have a tendency to agree with me on matters political. I eventually find myself to be more candid and open about George W. Bush, the war, and all things American.
After our late lunch, the possibilities are endless: Galleria Borghese, Villa Borghese, Anzio, Nettuno, Colosseo, Via del Corso, gelato, il Museo de Arte Moderne, Circo Massimo, San Pietro, Piazza Navona, Pantheon, etc. This city, my world, is open to anything. To all things new and exciting. Who knew that one of the oldest cities on earth would still be so full of life? And would capture and keep a hold on my heart for years to follow?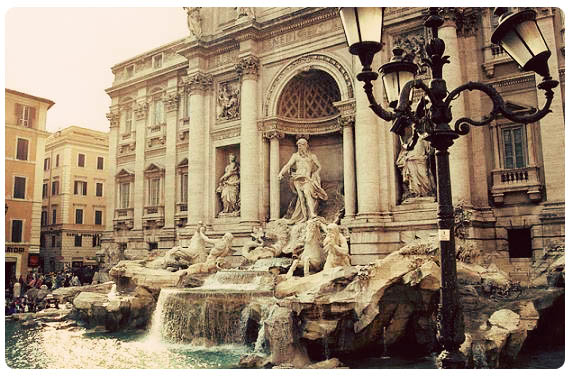 I miss it so much today. Not that today's a special day of any kind. I just miss it. I can see it like I was there yesterday. From my kitchen, I can hear the ristorante throwing the dishes around on the other side of the courtyard. I can smell the food. Hear the language. Feel the heat and the slippery cobblestones beneath my sandals. I can taste the cappuccino and see all my friends laughing. I can still feel the hurt of saying goodbye. Of crying in Josefine's arms in front of Fontana di Trevi on my last night. And gaining enough composure to turn my back with her and toss coins in the fountain to secure our return. She hugged me and told me not to cry over beautiful things. I couldn't sleep that night. Sick to my stomach because I was leaving. I was leaving the one place that felt like home. Where I could be happy. A short train ride from the Mediterranean. A sweet gelato on the corner. A cheap bottle of vino. Dancing in the park at night. Walking across the Tiber. The celebration every time Italy won a calcio match. Campioni del mondo and "ba ba ba ba ba baa baaa" to the tune of White Stripe's "Seven Nation Army."