When my friend Sara Beth and I spotted dirt-cheap flights to Bogota, we knew it was time for us to finally adventure to South America for the first time ever! We didn't really know what we were getting ourselves into, hardly planning much before going because we were both so busy with work, but it ended up being awesome.
Before going, we looked at Cartagena, Bogota, and Medellin before ultimately settling on Bogota. While I'd read that it wasn't a very touristy destination and more of a business city, we still found loads of things to see and do while there, and I'd go back again!
The people were friendly and happy, the weather (while drizzly) was nice and cool, the Andes surrounding the city made for a gorgeous backdrop, the food was delicious, and I loved all the street art.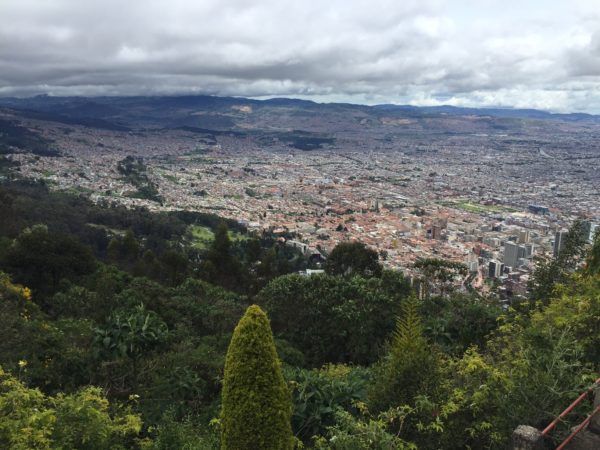 There are still plenty of negative images conjured up when you tell someone that you're going to Colombia. Until recently, the country was mainly known for its major drug trafficking cartels and all the violence and awfulness that came along with that. While I know that drugs still play a role in life in Colombia and that violence in the country still exists, I didn't come across either in my long weekend there. As with anywhere you travel, if you pay attention to your surroundings, don't draw attention to yourself with flashy dress/accessories, and take official taxis (the white are safer than the yellow; and you should have a number of a taxi company and get the driver's name/license plate number rather than hopping in any taxi), you should be fine.
It's cheap to stay somewhere central and taking taxis is an inexpensive way to get around as well. Per person, Sara Beth and I each spent about $500 total for four days, including flight (we also splurged on jewelry, drinks, and other little things).
What to See and Do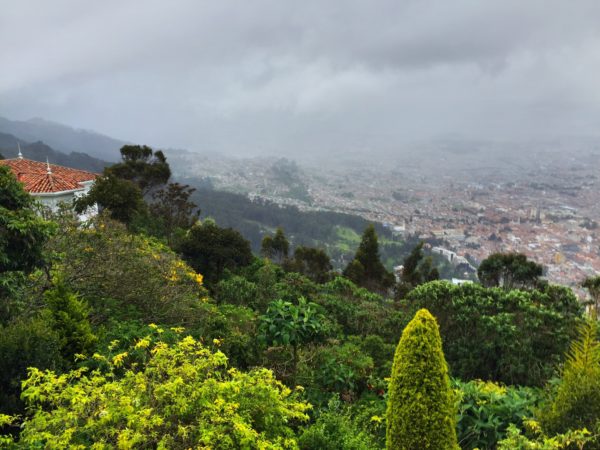 Monserrate
We took the funicular up and the cable car back down and this seemed to be the best way to get every awesome view imaginable. The views of Bogota from the top are incredible, even in the drizzly overcast weather. Stop in the church and take a look around; stroll through the little marketplace and stop for something to eat; take a break in one of the cafes and be treated to some gorgeous views while you sip your hot chocolate. Take it easy up there too, as the altitude is very high and you can get winded easily. (Megan: 0; Altitude: 100)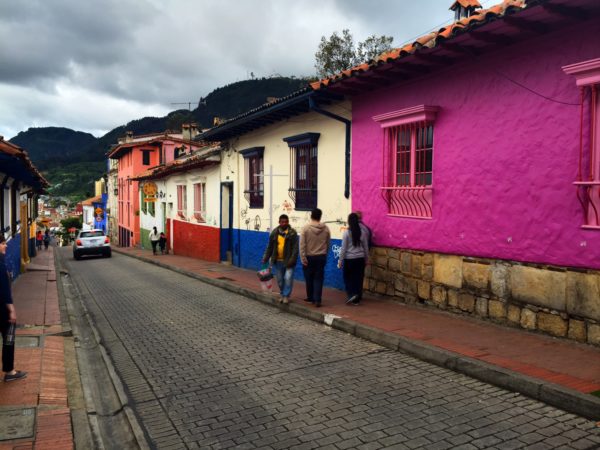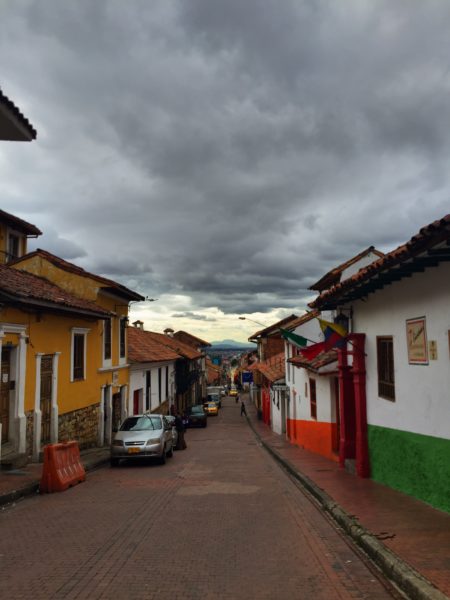 La Candelaria
This is a bustling and colorful historic neighborhood in Bogota. There's a bit of shopping and eating to be had, but the best part is just walking around and taking in the colors and watching the people. Spend an hour or two walking up and down the hilly streets, check out the street art, and take lots of fun photos.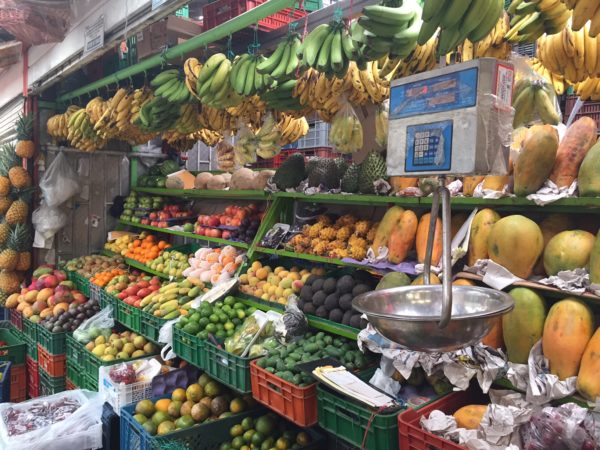 Mercado de Paloquemao
If you're into markets, this fruit and vegetable market shouldn't be missed. It's rows and rows and even more hidden rows of farmers selling fruits, vegetables, and plants/flowers. There are a few little eateries lining the marketing, where you should grab a little snack and a drink. Don't forget to take your camera, and if you go early enough in your trip, you can take some goodies back to the hotel with you!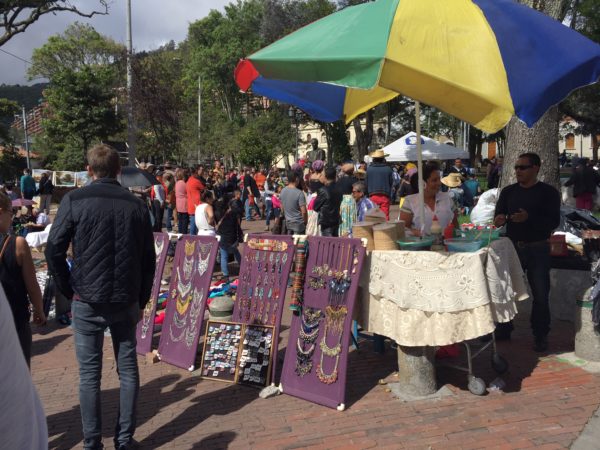 Mercado de las Pulgas de Usaquen
I love craft markets. They're my thing. No matter where I travel, I have to go to craft/art markets, and this one didn't disappoint. First of all, Usaquen is an adorable neighborhood and the market is situated around a lovely small park, which is flanked with restaurants. On Saturday morning, grab a quick bite to eat and wander around the marketplace. Buy some organic coffee, animals shaped out of fruit pits, gorgeous artisan-crafted jewelry, and delicious street foods.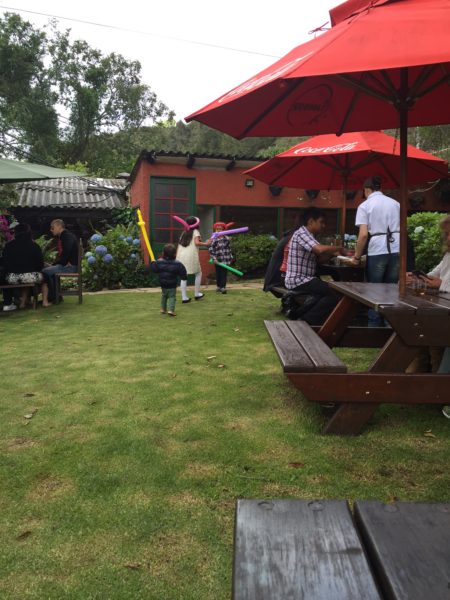 El Tambor in La Calera
Spend an afternoon like the locals! Head up the mountain to La Calera and stop at the El Tambor restaurant. It's an interesting compound that took a few minutes for me to navigate: there are several buildings, an outdoor cooking/ordering structure, a building for bathrooms, and several grassy areas set up with seating. Stand in line to order some food, get your buzzer, and find a picnic table. Feast on some typical Colombian food while drinking some beer and soaking up the sun in this gorgeous, secluded spot.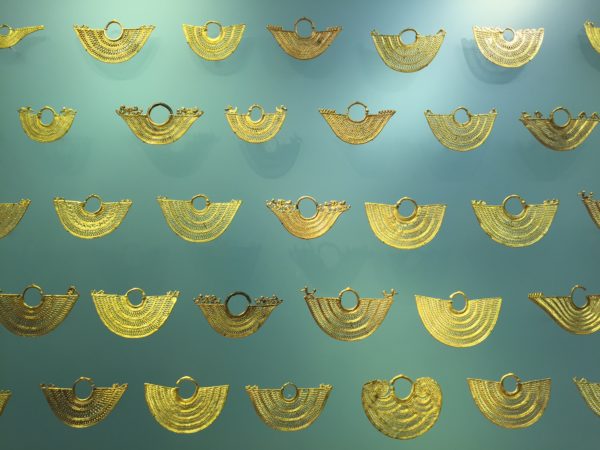 Museo de Oro
To be honest, I was afraid I would be a bit bored at this museum. I dig museums, but typically art museums are more up my alley. This museum is full of historic gold, brass, and clay pieces created and found throughout Colombia. Some of it is really incredible (and you can find replica jewelry pieces at the market in Usaquen if you so desire). It might take an hour or two to wander through, but it's worth it for a bit of historical context!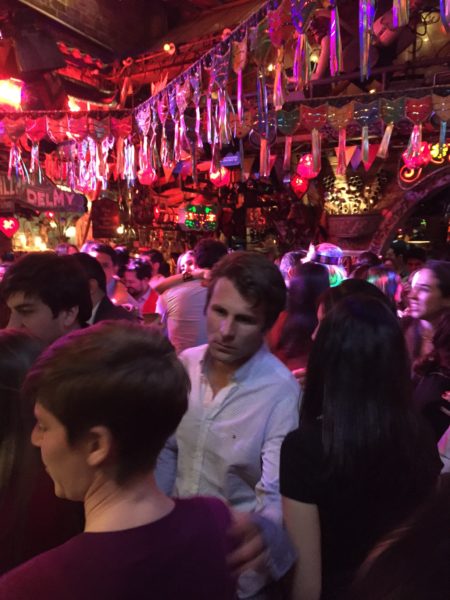 Andres Carne de Res
I'm not even sure how to describe Andres Carne de Res. It's part restaurant, part bar, part dance club, part junkyard. All of that rolled into one certainly makes for an interesting and fun experience! Make a reservation, book a private cab for the 45-minute drive, and show up ready to be confused and to have some fun. The food and drink menu is literally a book. It's about 75 pages long and has everything imaginable. After eating, push your way through the crowds to the various dance floors and make-shift dance areas to party a bit and watch people get a bit crazy dancing on tables. This place isn't for the faint of heart. I'm not a big dancer/night club-goer, so I could only handle it for a bit. Definitely worth it though.
What to Buy
Coffee
This is kind of a no-brainer. When in Colombia, you buy coffee. I don't drink coffee, but I brought back some for others, who loved it.
Sweets
I might not drink coffee, but I am a sweets connoisseur. You'll find all kinds of sweets–but the coconut-based ones were my favorites.
Jewelry
One of my favorite things to buy as "souvenirs" is jewelry. I bought a pair of earrings from an artisan I met, and bought two pairs of Gold Museum replica earrings. All of it was pretty inexpensive.
If you have a bigger budget, Colombia is the place to buy emeralds. I took a look at a few places, but didn't find anything that really jumped out at me.
What to Eat
Ajiaco
Gotta say–this was one of the best things I ate on the whole trip. And it's so simple! It's soup made with a couple kinds of potatoes, chicken, corn, avocado, rice, and capers. It's hearty and filling, perfect for the chill in the air in Bogota. Seriously still dreaming about this soup.
Hot chocolate with bread and queso at Pasteleria Florida
The hot chocolate I had in Colombia (and I had a lot of it) was the best I think I've had anywhere. And the hot chocolate at Pasteleria Florida was the best of the bunch–thick, creamy, hot, and not too sweet. They serve it with a side of bread and cheese, which seemed like an odd combination to me, but it worked!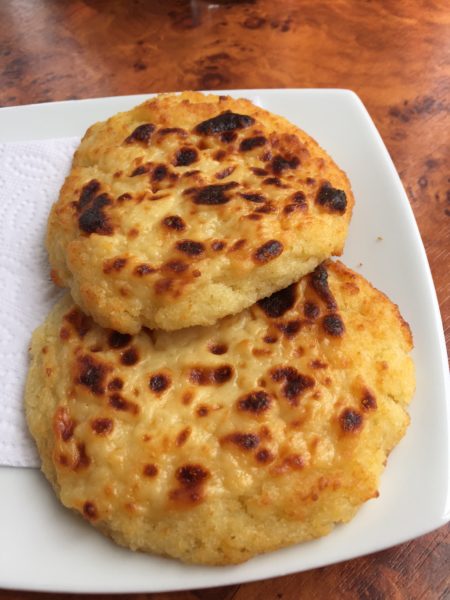 Arepas
What can I say about arepas? By the time I left, I never wanted to eat another one because I'd eaten so many. But they're delicious, and you should try them all. I had plain ones, cornbread cheese ones, sweeter bread with cheese, etc. My favorite is the more savory cornbread cheese arepa. The best ones I had were at El Tambor in La Calera.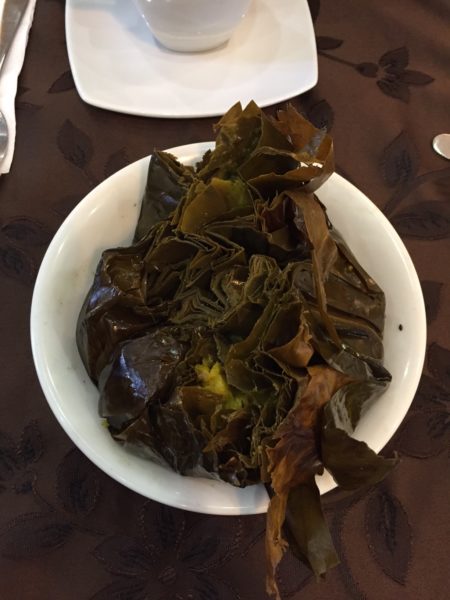 Tamal
The tamales in Colombia are a bit different than your typical Mexican ones. They're wrapped in plantain leaves and are much larger. I had the tamal tolimense, which is typical for breakfast and served with, you guessed it, hot chocolate. The kind I had was filled with rice, veggies, and chicken. It was very dense and sticks to your ribs. One tamal split between three of us was more than enough food in addition to the bread, cheese, and hot chocolate that it's served with.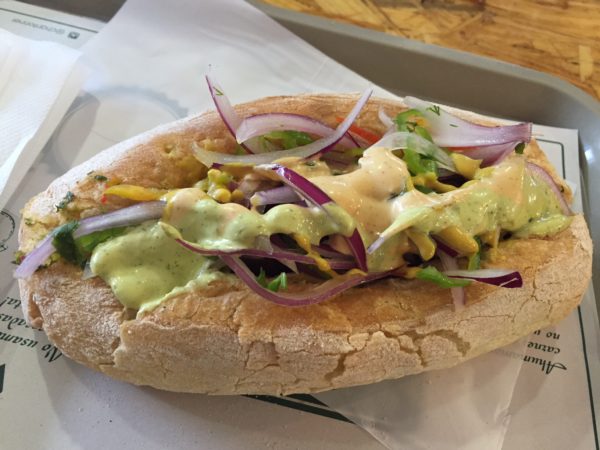 Spiced Chorizo
I'll admit a bit of ignorance here: up to this point, I'd only had chorizo in the very Tex-Mex way: crumbled and cooked as part of a breakfast taco. So when I ordered a chorizo sandwich in Bogota, I'd expected it to be either crumbly and messy or kind of mashed into a patty. But, I was wrong! It was a legit sausage in a casing. I had it twice while there–one variety wasn't spiced and the other was. I'm a huge fan of spicy food, so I preferred the spiced kind. Perfect amount of seasoning, not over-the-top hot, and delicious on the side of arepa.
Oblea
The only thing I could liken this to before tasting it was a stroopwafel. It has the same outward appearance, but oh is it different in a delicious way! Here's how it's made: take a thin wafer, smear on some arequipe (think dulce de leche), add a bit of strawberry or raspberry jam, sprinkle some cheese on top, and finish with another wafer. I was a bit skeptical of all these different flavors going in one treat together, but holy God, this was awesome. Sara Beth and I split it because it was a bit much to handle alone. But do NOT leave without trying one.
Candies/Sweets (Cocadas de Panela y Coco, Rellenas de Arequipe, Panelitas de Arequipe y Coco)
As I mentioned before, Colombia is a country that loves its sweets. I've listed above a few kinds that I bought and brought home with me–these are easy to transport back and you can find them pre-packaged, meaning you can actually bring them home with you without issue. If you enjoy coconut or arequipe, you've come to the right country. Load up on a bunch to bring home for friends and family.
I have to say that the trip to Bogota was one of the best weekend trip decisions I've ever made. It was easy to get to, easy to get around, inexpensive, and so much fun. If you want to hop out of the US for a long weekend, definitely add Bogota to your list of potential destinations.