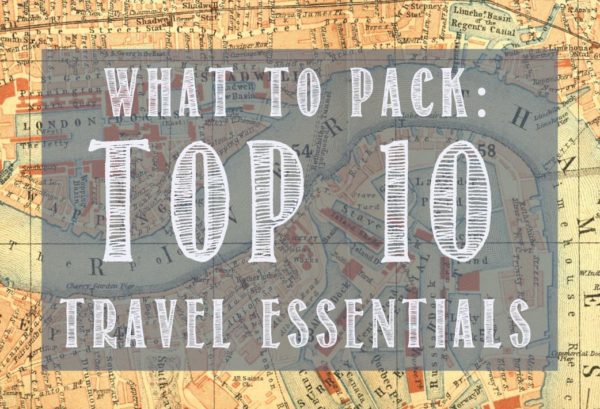 Packing is typically people's least favorite part of travel. Traveling for several months straight and unpacking and repacking my bag every few days has given me some insight on things that can make not only packing, but traveling a bit easier. Here are my top travel essentials! What do you not leave home without?
TSA Cable Lock: This is one of the best and cheapest investments you can possibly make. I purchased two: one for my big luggage and one for my daypack. The locks made me feel secure while in transit (on the plane, bus, train, etc.) and while staying in hotels and hostels. In places that didn't have safes, I would either put everything in my bag and lock the bag itself or I'd throw my stuff in a locker and use one of the locks for that. I found the cable lock to be the best, as the ones with the stiff metal enclosure are difficult to fit through some zippers and some lockers.
Packing Cubes: Packing cubes are perhaps one of the best inventions ever. I have three in different sizes and they come in handy for everything. They're great for separating different types of clothing (keeping your underwear separate from your t-shirts makes for easier access), keeping all of your bathroom essentials together, etc.
Earplugs: I'm not a huge fan of silence, but what's worse than that is excessive and annoying noise when I'm trying to sleep. I alternate between hotels, apartments, and hostels when I travel and in any one of those situations, you're leaving things open to fate. When I stayed in Dresden, I shared a room with one of the worst snorers I've ever encountered. I was so grateful to have earplugs because it meant that I could at least drown it out a bit and get a few winks of sleep. Earplugs are imperative if you're a light sleeper–especially if you're sharing rooms or trying to sleep on some form of transportation.
Travel Towel: Travel towels are a great invention: they're compact, absorbent, and quick-drying. I have an XL one so that I could also use it as a beach or pool towel if necessary. They come in handy not only for those situations, but also for times when your hotel doesn't provide enough towels or your hostel requires you to pay for one. In a pinch, it can also be used as a blanket!
Large Scarf: I always, always, always travel with a scarf. (Well, to be honest, I typically travel with multiple–I have an unhealthy addiction to scarves.) I love the warmth they provide on planes, how they can dress up otherwise mundane outfits, how they roll up into pillows, and that they can be used as a cover-up if you're in more conservative or religious places (think the Middle East, India, Morocco).
Camping Utensils: It's a great idea to bring along your own cutlery–whether you bring a separate spoon, fork, and knife as I did or purchase one of those sporks with the knife handle, they come in handy. If you're eating on the go, getting take-out for your hotel room, or storing food in your mini fridge, those handy camping utensils will save your life sometimes.
Laundry Kit: This is a great idea if you're planning to take a longer trip or if you're a light packer. I used this kit so many times–to do laundry in my hotel bathtubs and sinks and sometimes I just used the packets of detergent to go to a laundromat. Also, getting a clothesline is a good idea too in order hang your clothes to dry. I recommend one that has both suction cups and adjustable velcro straps so that you can use it in almost any setting. (Pro-tip: If you're staying in a particularly humid/wet climate such as Scotland, don't hang your clothes in the bathroom as they'll take forever to dry. Instead, try to hang them over a heater or in front of a window.)
Reusable Bottle: I'm not going to claim to be an environmentalist or particularly "green" person, but I try to do as much as I can. Having a reusable bottle is not only a great way to save money, but it's also great to always have water. In countries where it's safe to drink the water, fill it up as often as possible and take it with you in your day pack so you don't have to stop and pay for water. In places where water isn't safe, you can get tabs to sterilize the water, or, purchase larger quantities of bottled water and stash it in your room while filling your reusable bottle with it to take on the go.
Power Strip and Adapter: An absolute must if you're packing loads of electronics. I love my power strip with the USB slots so I can charge my phone without taking up one of the outlets. Also, I'd pack two adapters if possible just in case you lose one or have an emergency need to charge everything at once and not enough spots open on your power strip. Before you purchase, ensure you get one that's universal (and has all plug adapter types) or one that's specific to the country to which you are traveling. I forgot the UK had different plugs than the rest of Europe and had to scramble to find an adapter when I landed in Scotland.
Moleskine and Pen: This is pretty simple and light-weight. I suppose you could also use your phone's notes capabilities, but I love hand-written accounts of things I've done and seen. I also prefer the blank unlined Moleskine so I can sketch a bit if I want.
Bonus: Tissues or Toilet Paper: You never know when you're going to have a runny nose or when you're going to use a bathroom that doesn't have any toilet paper. The number of times having tissues in my bag saved my ass is unmeasurable. I will never travel without them.
Note: The companies above did not pay me for mentioning them. I genuinely love and use everything I've written about. However, the Amazon links are affiliates for which I will receive a small commission if you should purchase something. Thanks for supporting Meganotravels!