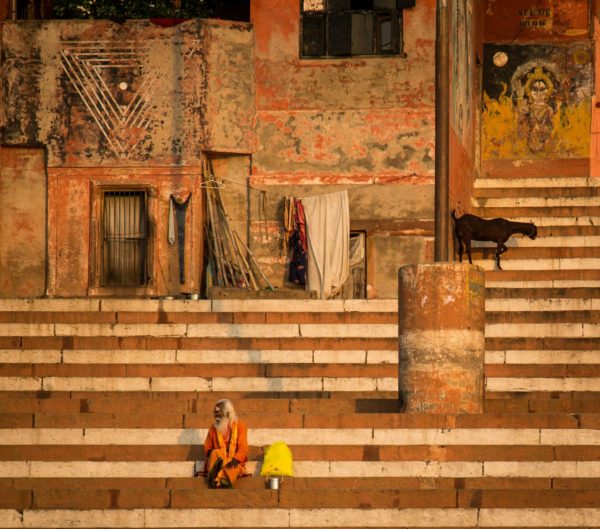 I've taken two trips to India in the past year and have yet to write much on my blog about either of the trips. India is one of those countries that's so difficult to actually describe, but is so amazing that you want to tell everyone about it.
I was just answering a few questions on my favorite place in the world for another blogger and without hesitation, I picked a place–and not one that I thought I would've chosen: Varanasi.
Varanasi is the holiest place for Hindus—both life and death can be found along the ghats the Ganges. It was a place I knew I had to visit when going to India, but is surprisingly not terribly touristy (as compared to places like Agra). It was the last place I visited on my first trip to India. I was tired both physically and mentally; in mid-May it had become exceedingly hot and humid, draining me all of my energy. I was sick of the food; sick of the honking of horns; tired of touts chasing me to sell everything from useless toys to finger paints. But something about that city completely re-energized me.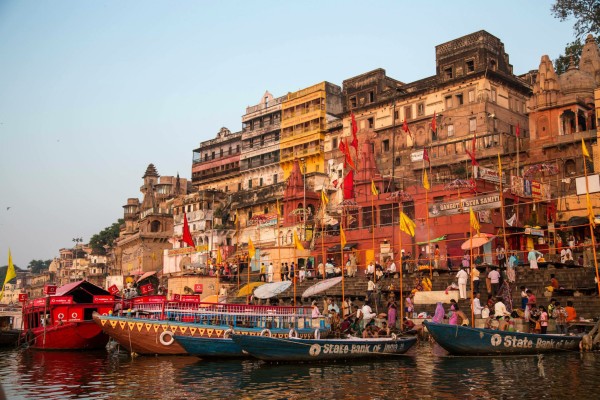 Varanasi (like most of India) is a maze of streets with traffic going in every possible direction. To an outsider, the streets seem like utter chaos—filled with pedestrians, bicycles, rickshaws, trucks, cars, tuk-tuks, cows, dogs, goats, and motorbikes. But as crazy as it all seems, there's some sort of organization to it all, and it just works. From the back of a rickshaw, Varanasi is a blear of beautiful and bright colors. The air is muggy with a slight breeze and filled with the smell of incense covering the reeking of garbage and mixture of human and animal excrement. Everywhere you turn, you hear people bargaining, touts yelling to sell you something, children begging for "one photo," and the incessant blaring of horns. Yet somehow, amid all of this madness, Varanasi is the place where you also feel a sense of calmness absolutely take over. It's a place where you can stand right in the middle of the street with all the sounds, sites, and smells threatening to assault you, and you just smile, observe, and appreciate it all.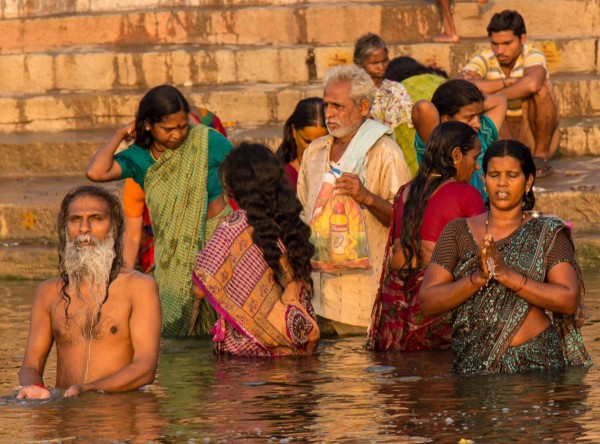 At sunset, I took a boat tour on the Ganges and floated past the funeral pyres on the ghats. It's such an intimate thing to be privy to and it felt almost wrong to watch someone's loved one be cremated right out in the open. It's also fascinating and gives you a glimpse into how death is handled in different societies and cultures from your own. As the sun began to go down, my boat congregated with all the others to watch the nightly Aarti (puja; Hindu prayer ritual) from the water. It's a beautiful thing to see—the performers face the Ganges and turn their Aarti lamps in a circular motion, the flames holding strong and the smoke billowing all around. There are bells ringing and chants being sung, the whole thing transfixes your gaze, not entirely sure what you are watching but knowing there's something special about it. When it ended, we boated back to the ghats and went on with our nightly routine of filling up on curries, rice, and naan.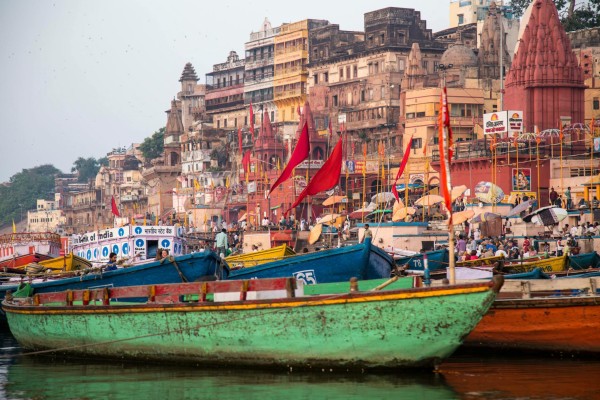 Sunrise was perhaps the most magical time of day in Varanasi though: waking up before the sun and hopping in a rickshaw to go to the ghats. As light slowly descended on the eerily quiet and empty city, I slowly saw people emerging—mostly the laborers who were ready to begin their days of hard work. Whizzing by, I caught all the smells formerly masked by the incense and the scent was enough to turn my empty stomach a bit that early in the morning. At the Ganges, I found remnants of last night's puja—all the flowers and candles I made a wish with and put into the holy Ganges so they might be granted had washed ashore in a beautiful mess—a different kind of death at the Ganges.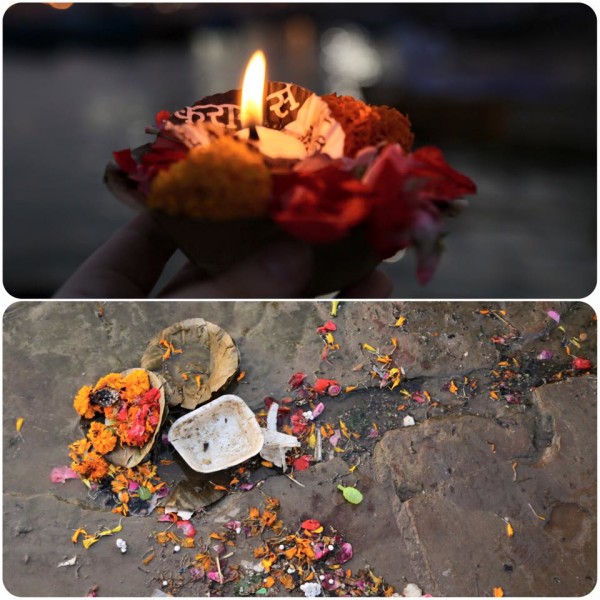 Another boat ride was in order. This time there were no funeral pyres. No majestic Hindu ceremonies. It was only the ceremonies of the local people. They were bathing, beating their clothes clean on the rocks, praising their Gods in their own way. Along the stairs of the ghats, there were sadhus sitting alone worshiping; sweepers cleaning before hordes of people descended; women gathering water in buckets; goats wandering aimlessly; and a group of men dressed in all orange ringing bells and chanting. The light was the most perfect I'd ever seen–that gorgeous warm glow making everything look just a bit more orange and a bit more inviting.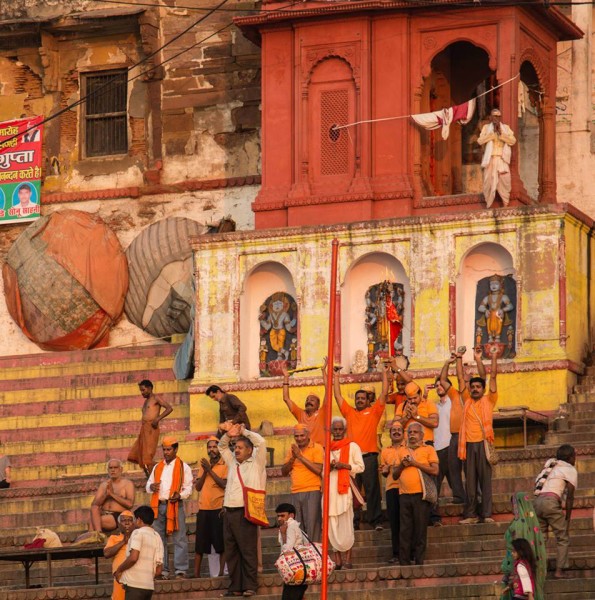 The thing that strikes me the most though, is how peaceful it was. In the craziest country I've ever visited, in the most chaotic city I saw in India, here, on the Ganges at sunrise was the most peaceful I'd felt in ages.