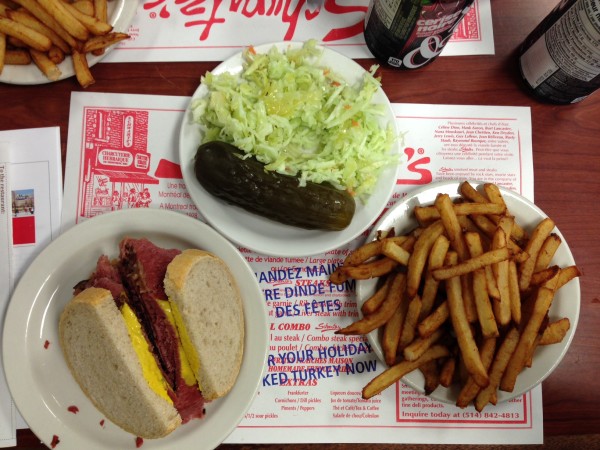 Schwartz's Deli, a Montreal institution, was opened in 1928 by a Jewish immigrant from Romania. The deli specializes in smoked meat sandwiches, typically served on rye bread with yellow mustard. I visited this landmark deli when I spent a long weekend in Montreal to celebrate my birthday in mid-December. Typically, the line is out the door and there's a long wait even when you make it inside, but I guess when the temperatures are way below freezing the idea of standing outside and freezing to death isn't all that appealing.
I was seated in a matter of a few minutes and briefly checked out the menu to see what I wanted to order. Not a few moments later, a friendly waiter came up to ask what I wanted, and instead of giving me a chance to order, basically told me what I should order–the typical Schwartz's Deli meal: smoked meat sandwich (medium-fat meat) with a side of fries, coleslaw, a sweet pickle, and a black cherry soda.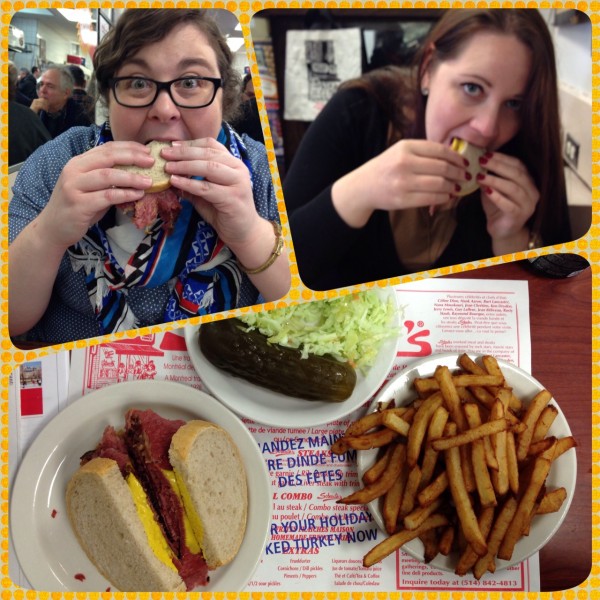 A few minutes later the food appeared in front of me and it was time to eat! The sandwich was pretty delicious, but so loaded with meat that I had to take some of it out to eat with a fork afterward. Also, I'm not really a fan of gristle, so I think I would've much preferred the lean meat to the medium-fat variety. But other than that, I loved the simplicity of just meat and tangy yellow mustard. The sides were just that–sides. Nothing spectacular, and in fact, I kind of hated the pickle (I'm more a kosher-style pickle fan). Overall though, I can certainly see why Schwartz's is such a popular must-eat in Montreal.
My meal at Schwartz's Deli was generously provided by Tourism Montreal. As always, all opinions are my own.