Before my trip to Dubai, I was sort of torn about what to pack. I knew that the United Arab Emirates was Muslim, and thus I'd probably need to be mostly covered, but I'd also read that Dubai was sort of a fashion metropolis, jam-packed with malls teeming with awesome clothing stores. So–what do I do? I wondered. I scoured the Internet (Google searches, Pinterest, etc.) to see what I could find, and I really didn't find much that told me what was appropriate. Instead, what I found was, "cover your shoulders and knees." Okay, easy enough, I guess.
So, I thought it safe to pack what I would ordinarily wear and feel it out on the first day and alter my outfits if need be from there on out. Honestly, I don't know what I was so worried about. I saw girls in skirts, tank tops, spaghetti-strap dresses, etc. Sure, there were plenty of other women completely covered, but lots of Westerners got away with bare shoulders and knees in malls (where you're supposed to dress modestly as even the signs on the doors tell you so). I always try to respect local customs, so I remained covered while I was in Dubai.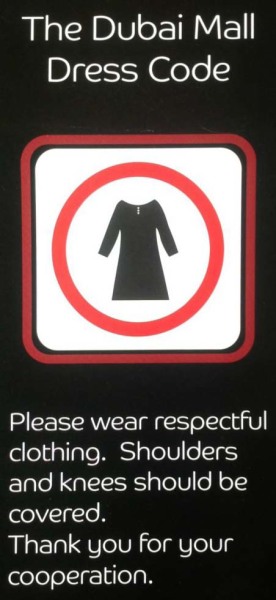 I also traveled with a Muslim friend who suggested I wear longer shirts to cover my butt and to wear things with higher necklines to hide any possible cleavage. I mostly adhered to this, but didn't find any sort of issue when I didn't (save for perhaps a few extra stares on the Metro).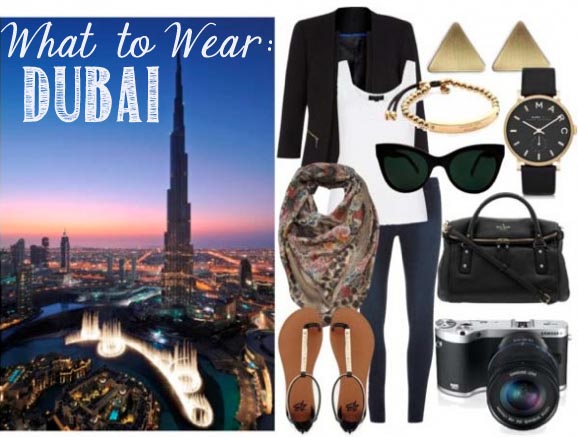 Temperatures in February are still pretty mild–nothing like the summertime scorchers, so wearing long pants (jeans and leggings) was comfortable. Additionally, everything is very air-conditioned, so a sweater or blazer was a good idea for me as I get cold easily. It's also a pretty fashion-forward city, and even the women who were dressed in the abaya were wearing heels, carrying awesome purses, and had the most impeccable eye makeup I'd ever seen. Checking out the styles was one of my favorite things to do in the malls.
So, to sum it up: You can probably wear whatever you'd ordinarily wear. Just be sure to bring skirts and dresses that go past your knees, and if you're planning to wear tank tops, carry a sweater or pashmina (or shawl or scarf) with you to wrap around you when entering places where you need to dress modestly. If you're planning to do a lot of walking, I suggest comfortable footwear (I can't get behind the heels while heels while shopping in a mall all day). And, a cross-body bag is perfect to be hands-free while you're busily snapping photos, holding on in the Metro, and sorting through racks of clothing at the malls.